Jacqueline Fernandez to star with Hollywood's Jean-Claud Van Damme in new movie? Here's what we know
Jacqueline Fernandez teases a surprising project with Hollywood's Jean-Claude Van Damme, sharing her admiration for the action legend in a recent interview.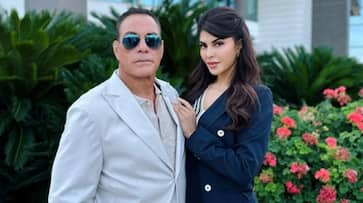 Lately, Jacqueline Fernandez has been making a lot of news. She was seen working with the famous Hollywood action star Jean-Claude Van Damme. This has made her fans really excited. In a recent interview, Jacqueline shared some details about her collaboration with Jean-Claude Van Damme. She mentioned that it's going to be a big surprise for her fans.
When she was asked about working with Jean-Claude Van Damme, she said, "I recently shot a film with Jean-Claude Van Damme in Italy and it was just great to be able to work with such an icon and legend, a true action hero I have looked up to and grown up with his films."  She also mentioned that her family is a big fan of Jean-Claude Van Damme,"Me and my family have a collection of all his films and we used to replay them all the time. We never thought in my wildest dreams that I would ever shoot a film with him. But it is a great role and it is a fantastic script with action, drama and suspense all rolled into one. It has just been a great experience,"
Jacqueline recently finished shooting for her upcoming movie 'Fateh,' in which she stars alongside Sonu Sood. Before coming back to Mumbai, she went on a spiritual journey to seek the blessings of Lord Shiva at the holy temple of Kedarnath. With her upcoming movies 'Fateh,' 'Welcome 3,' and 'Crakk,' Jacqueline is showing her talent in moving from one role to another seamlessly.
ALSO READ: The Marvels Spoiler: Brie Larson's MCU movie to have unexpected cameo and more
Last Updated Oct 26, 2023, 4:44 PM IST