Happy Mother's Day: From Siddhant to Mugdha Chaphekar, here is what TV stars have to say about their moms
God could not be everywhere, so he created mothers, as the saying goes. On Mother's Day, we read and listen to what stars have to say about their special person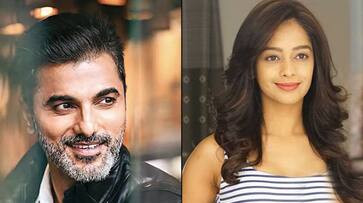 Mugdha Chapekar, who plays the role of Prachi in Zee TV's Kumkum Bhagya, says, "My mother has been my constant support system. She's a strong person and has always made sure I be brave and strong. I remember when I was a kid she always used to say, 'माणसाने नेहमी असामान्य असावे,' whatever you choose to do in life make sure you are good at it and I follow it even today. She is a working woman who happens to be a wonderful homemaker as well. In fact, I have inherited her cooking skills too, but still she is the best! I love her optimism and never have I ever seen her spirit go low! 'Put that smile on and seize the day,' is what she believes as being raised by a woman like her is the best thing to happen to me. Whatever I am today I owe it to my mother."
Siddhaanth Vir Surryavanshi who will be seen playing the role of Kuldeep in Zee TV's Kyun Rishton Mein Katti Batti revealed, "We all have various gods and faiths and we believe in the creator above. I have only heard and read about god and his ways, but the fact is that my mom is the first god I knew. When we were kids, we were always being told that when we grow up and become parents is when we will realise how they felt and what they went through. This couldn't have been truer as becoming a parent has made me understand them better now. In fact, I believe that there is no one on earth who loves as selflessly as a mother and lucky are those who have her and get all her love. I lost my mother 7 years back and not a day goes by where I don't think of her. I really wish I could turn back the clock and make up for all the lost time with her, apologise for all the troubles I gave her. To be honest, she was an excellent cook and I miss Maa ke haath ka khaana the most, nobody can come close and I can never have that pleasure anymore."
Sanjay Gagnani who plays Prithvi is Kundali Bhagya said, "I plan to celebrate Mother's Day by giving her a video call in the morning and telling her that she's the best mother in the world. Since I live away from my family, I'll send her flowers, chocolates and a gift. I feel mothers are living goddess. She is the most selfless human being. She would sacrifice, support and nurture a child like no one else would. A world without mother would be like a world without love, affection, care and selflessness. I believe every day is a Mother's Day and we don't need a particular day to celebrate mothers and their presence in our lives. A Mother is a blessing to any child.  They should be celebrating each and every day of our lives."
Karan Jotwani who plays the role of Neel in Zee TV's Qurbaaan Hua revealed, "Me and my mom are more like friends. She knows every detail of my life, and is there round the clock for me, so she is very special. I believe it is time for all of us to understand that we should make our mothers our best friend because if they can carry your weight for 9 months, they should definitely know all the weight on your shoulders and every detail about you. They deserve to know. So, on this Mother's Day, I'd want to tell everyone to love their mothers as the universe doesn't send multiple forms of them."
Nishant Singh Malkani who plays the role of Akshat Jindal in Zee TV's Guddan Tumse Na Ho Payega said "Moms are the best. They work 24/7, 365 days a year selflessly for their children and families. I think it's true that they are an image of God. They give life and discipline and nurture their child. In this Covid situation, too, when everyone is at home and not working, Moms are working double time for their families. Hats off and salute to all mothers"
Last Updated May 10, 2020, 11:08 AM IST