BTS pop icon RM finally breaks silence on his 'relationship' status in Weverse live session - READ TWEETS
BTS leader and K-pop icon RM was constantly asked by the BTS ARMYs about his personal life, with regard to his relationship status at present in life. And this is how the globally prominent 'SEXY NUKIM' rapper and singer has responded to it. Read the VIRAL BTS fans' tweets to know more.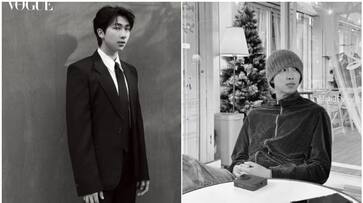 BTS leader RM, aka Kim Namjoon, said he is ready to introduce and remove the wraps from the fandom, aka BTS ARMY, by officially wanting to give an introduction to his girlfriend, thereby declaring his relationship status to global BTS ARMYs. However, there is a problem, which he disclosed and talked about during his recent Weverse Live session. BTS RM, also known as Kim Namjoon hosted a live session on Tuesday night at Weverse and spoke about various topics. He even read out questions from fans and answered as many as possible. One of the questions was about his girlfriend. This question intrigued the K-pop icon RM, who finally ended theories and anticipations of BTS fandom related to him having a girlfriend and being very secretive and private about it, which made the ardent globally acclaimed BTS ARMYs excited and thrilled on the social media microblogging platform X (formerly Twitter).
ALSO READ: OMG 2: Akshay Kumar denies to reveal 'unedited' version on OTT platform - Know details
In a VIRAL video from the live session on X (Formerly Twitter), Namjoon read the message, "Introduce your girlfriend." The Moonchild singer broke into peals of pure laughter after reading the specific question from BTS ARMY. He then shared, "Oh sh*t. I really want to. But I have none right now. Can you introduce me to one?."
Here are some hilarious and quirky reactions from ardent global BTS ARMYs, who are having a gala time by telling RM to connect with them if he is looking for a girlfriend. One fan said, "Joon, U do not have to hide me!! U can tell 'em."
Another fan shared, "Notice how right now, he is waiting for the right person (me)."
A third BTS ARMY adds, "He is such a gentleman wanting to keep our relationship private."
A fourth BTS fanatic added, "I am so glad he opened up about wanting one. Oh, Joonie. I hope you get someone soon."
ALSO READ: REVEALED: Kanye West, Bianca Censori's actual 'reason' behind their 'secretive' marriage
Last Updated Oct 11, 2023, 1:41 PM IST