Beyoncé's Renaissance Tour shells out $100k Metro hour extension amid weather delays
Before the show started at FedEx Field, concertgoers waited over two hours for a shelter-in-place to end.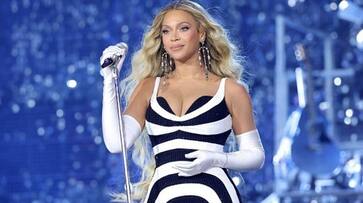 The last train at Metro will run an hour later than usual because bad weather postponed Beyoncé's "Renaissance Tour" performance on Sunday. Before the show started at FedEx Field, concertgoers waited over two hours for a shelter-in-place to end.The tour will pay for the $100,000 needed to run more trains, maintain all 98 stations available for customers to depart, and other operational costs in order to provide Metro service for one additional hour. Customers will only be able to enter at Morgan Boulevard, the station closest to FedExField, during the extended service duration. The only stations left will be exits.
According to the local ABC7, the 41-year-old hitmaker was scheduled to appear at the FedExField as a part of her ongoing Renaissance Tour. But after a shelter in place order was issued because of bad weather, the singer—who it was recently revealed had added an unexpected item to her tour rider—was forced to postpone her performance for almost two hours.
ALSO READ: Salaar Part 1: Prabhas and other cast restricted from interviews to avoid any spoiler
Beyonce gladly stepped in to offer her fans an additional hour of train service after the show ended to ensure concertgoers made it home safely. Nearly 100 train stations were kept open at the performer's expense for exits only, with Morgan Boulevard serving as the single entry. Beyonce gladly intervened after the performance to extend the train service for an additional hour so that fans could get it home safely. 
With an entrance solely at Morgan Boulevard, the performer paid to keep roughly 100 rail stations open for exits only. The vocalist of Drunk In Love earlier hinted that she might start a tour in October of the previous year. The Grammy Award-winning singer made it known that she intended to tour in February of last year. The concert tour was organised to promote Renaissance, her seventh studio album, which was released in July of last year. When the album first came out, both critics and listeners gave it very positive reviews.
ALSO READ: Selena Gomez's appearances with DJ Fred fuels their 'dating' rumours; Know details
Last Updated Aug 7, 2023, 12:34 PM IST