Alia Bhatt opted for saree over lehenga on wedding day for THIS reason; Read more
Alia Bhatt reveals why she chose a saree over a lehenga for her wedding with Ranbir Kapoor last year, sharing insights on her unique bridal choice.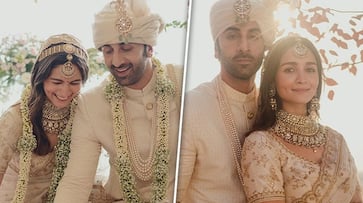 Alia Bhatt and Ranbir Kapoor is one of the most-loveliest Bollywood couples. They got married last year in April in an intimate wedding. While Ranbir Kapoor doesn't use social media, Alia Bhatt had shared many beautiful pictures of their wedding. For the wedding attire, Alia Bhatt opted for a saree over a conventional Lehenga. Fans and netizens alike had questions for Alia's choice. In a recent interview, she shared that the reason for choosing Saree over Lehenga is because it is the "most comfortable."
Alia Bhatt donned a beautiful ivory Sabyasachi saree on her wedding day. In a recent conversation with Vogue, she remarked stated "I love a saree. It's the most comfortable garment in the world, which is why I wore one for my wedding and not a lehenga."
She went on to elaborate on the advantages of being a woman when it comes to making choices regarding one's outfits. She expressed, "You should celebrate the side of you that you feel is leading in that moment—whether that's a saree, a super easy street-style vibe or an over-the-top gown. I believe the beauty of being a woman is that you can wear all these different clothes all the time. I can wear a pantsuit. I can wear a gown. One of the strongest aspects of this is that our wardrobe is so dynamic. I think that's a great thing and one should celebrate it."
As for Alia Bhatt and Ranbir Kapoor, they tied the knots at their Vastu residence in Mumbai. On their special day, both the bride and groom coordinated beautifully in stunning ivory ensembles meticulously crafted by the renowned designer, Sabyasachi. In a departure from the conventional bridal lehenga, the actress chose to adorn herself in a hand-dyed ivory organza saree, exuding a minimalistic yet ethereal bridal aura. She looked absolutely radiant with her mangalsutra and kaleeras, which notably featured Ranbir's lucky number 8, symbolizing infinity.
On the work front, Ranbir Kapoor's Animal is slated to release in December while Alia Bhatt is going to star in "Jigra"
ALSO READ: Singham Again: Ajay Devgn, Akshay, Ranveer Singh, Tiger Shroff, Arjun Kapoor shot Rs 25 crore climax scene
Last Updated Oct 9, 2023, 8:40 PM IST