'Papa Meri Jaan' song out: 'Animal' new song touches emotions with an absent father's love
'Papa Meri Jaan' is the third song from the film 'Animal' after 'Hua Main' and 'Satranga'.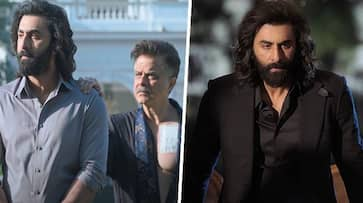 The makers of the film 'Animal' released the third song to the film titled, 'Papa Meri Jaan'. The new song is written by Raj Shekhar and sung by Sonu Nigam and it addresses the carved-in-blood father-son relationship. The song depicts Anil Kapoor's character's grip on Ranbir Kapoor's character. Anil Kapoor appears absentee in the song, but Ranbir Kapoor has idolized him since childhood. Rashmika Mandanna also appears in the song, expressing her love and support for Ranbir.
The song
About 'Animal'
In the film, Anil Kapoor plays the role of Ranbir's father and shows a toxic father-son relationship. 'Animal' is directed by Sandeep Reddy Vanga, and examines the father-son relationship between Ranbir Kapoor and Anil Kapoor's characters. Ranbir Kapoor's character appears to be obsessed with his father's favor and Fans can't wait to see how this scenario plays out in the film.
The cast
Rashmika Mandanna and Bobby Deol also play important roles in the film. While Rashmika plays Ranbir's love interest, Bobby appears to be the film's antagonist. 
Other songs
Previously, the makers released two songs, 'Hua Main' and 'Satranga'. Both the songs earned a lot of appreciation from the crowd.
After Shahid Kapoor and Kiara Advani's Kabir Singh, this is Sandeep Reddy Vanga's second project in Bollywood. 'Animal' was supposed to be released in August of this year but the film was then postponed due to unfinished post-production work. On December 1, 2023, the film will compete at the box office with Vicky Kaushal's 'Sam Bahadur'.
Last Updated Nov 14, 2023, 1:54 PM IST