Yuvraj Singh recalls 2014 World T20 final: Stones were thrown; 'felt like villain, going to jail'
'Yes there were some stones at my house as well. I felt like a culprit, like somebody has shot somebody and is going to jail. It was quite a sad feeling in my career. But, I bounced back from it. I still remember how I felt in that moment,' Yuvraj Singh recalled the ICC World T20 2014 final against Sri Lanka
Bengaluru: Former India all-rounder Yuvraj Singh has recalled the tough times when stones were thrown at his house after he failed to deliver with the bat during the World T20 2014 final against Sri Lanka in Dhaka.
Also read: When AB de Villiers felt Jasprit Bumrah was 'pretty average'
On April 6, 2014, Yuvraj was criticised for his slow batting in the World T20 final. He scored 11 off 21 balls at a strike rate of 52.38. He failed to hit a single boundary. India posted a below-par 130/4 in 20 overs with Virat Kohli top-scoring with 77 off 58 balls. Sri Lanka successfully chased down the target with six wickets and 13 balls to spare.
Also read: 'Just bat and shut up', this player told Virat Kohli
That day, on social media, fans attacked Yuvraj. They blamed him for India's defeat in the World T20 final. However, batting legend Sachin Tendulkar had thrown his weight behind the star all-rounder.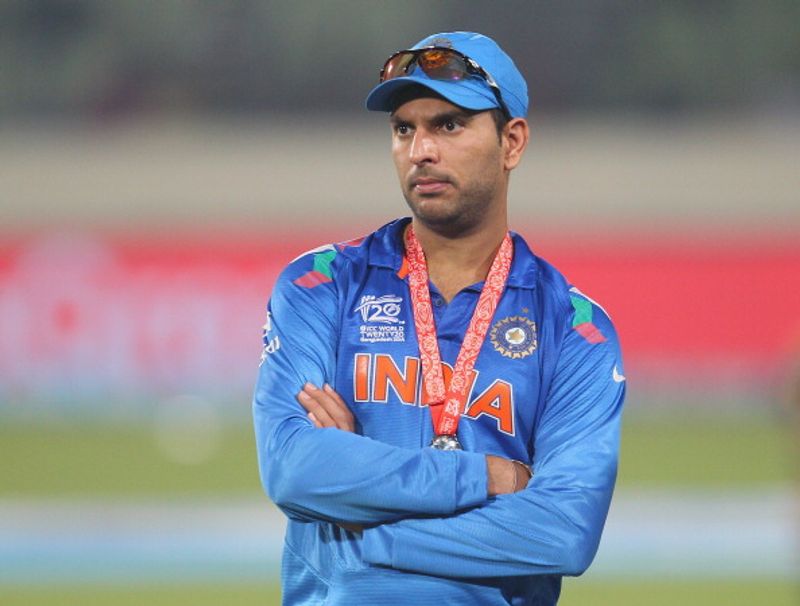 Yuvraj Singh is disappointed after the World T20 final in 2014 in Dhaka
Recalling that day, Yuvraj said on SportScreen, "First of all, I take full responsibility of that day. I did not play well."
Also read: Exclusive interview with MSK Prasad
He continued, "I remember (Lasith) Malinga bowled six yorkers. Neither me, MS (Dhoni), Virat (Kohli) could get away. I always take full responsibility. Unfortunately, that day was a World Cup final. If it was any other game or any other tournament, I have seen people scoring 11 runs off 20 balls in lot of IPL games, because it was World Cup final, scrutiny was more. When I got back home, I felt like I was a villain. I remember getting out from the airport and luckily I had my headphones on. I got attacked by the media and they were literally shouting at me."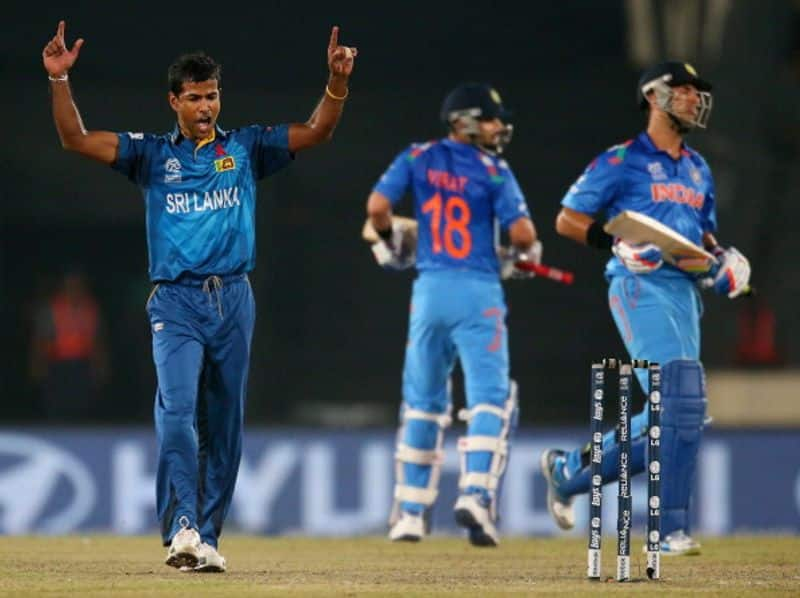 Nuwan Kulsekara celebrates dismissing Yuvraj (right) in the final of World T20 2014
Yuvraj, who won the Man-of-the-series award in the 2011 World Cup, said stones were thrown at his house in Chandigarh and he felt that he had shot somebody and was going to jail.
"Yes there were some stones at my house as well. I felt like a culprit, like somebody has shot somebody and is going to jail. It was quite a sad feeling in my career. But, I bounced back from it. I still remember how I felt in that moment.
"In a player's career, you won the T20 World Cup, you are given credit, you won the 2011 World Cup, and you got some credit. But, when you lose a World Cup, all the criticism comes on to you. When you win you don't get that credit but when you lose all the criticism comes on to you. I remember, in the end, there were guys who were not able to hit. Obviously, because I had scored 11 runs off 20 balls, criticism came only on to me," Yuvraj said.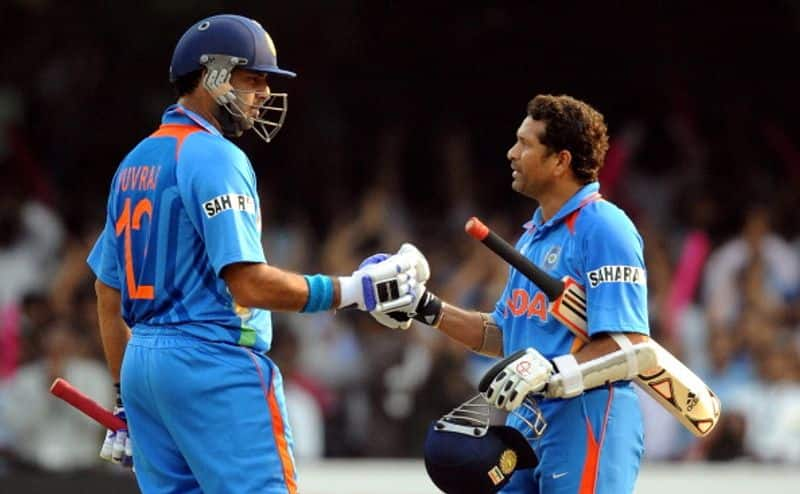 Yuvraj and Sachin Tendulkar during India's match against England in 2011 World Cup in Bengaluru
Talking about Tendulkar's support on that day, he said, "I remember Sachin (Tendulkar) tweeting that day, then people understood. People and media calmed down. I went home and I remember I had the six sixes' (2007 T20 World Cup against England) bat. I put my India cap on the six sixes bat and I thought my career was over."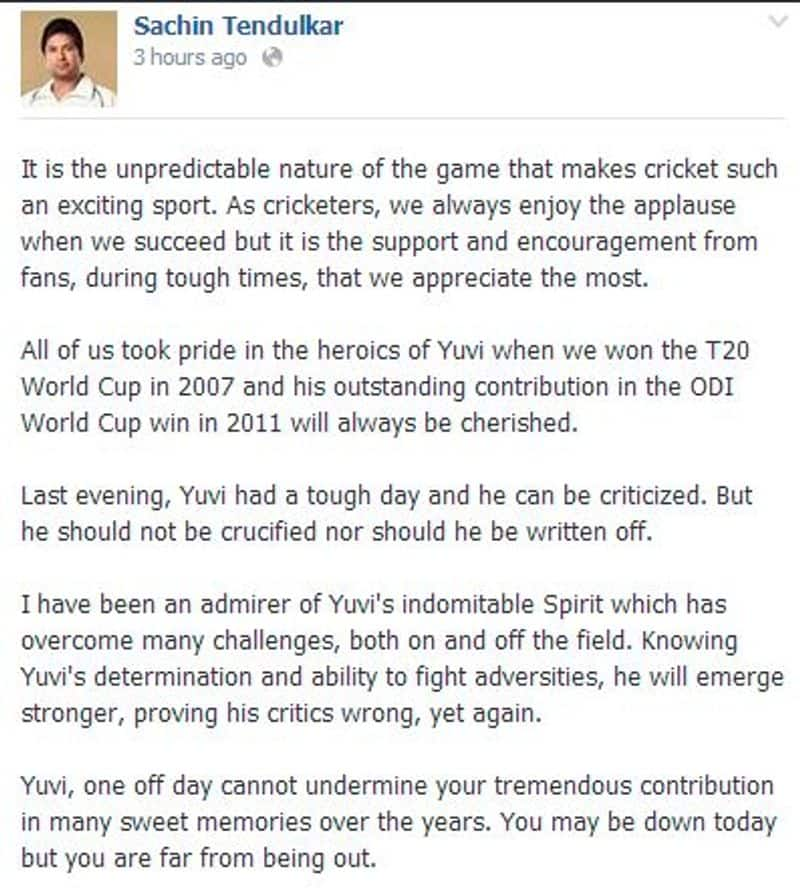 "Last evening, Yuvi had a tough day and he can be criticised. But he should not be crucified nor should he be written off," Tendulkar had written on his Facebook page.
"I have been an admirer of Yuvi's indomitable spirit which has overcome many challenges, both on and off the field. Knowing Yuvi's determination and ability to fight adversities, he will emerge stronger, proving his critics wrong, yet again," he added.
Last Updated May 13, 2020, 3:09 PM IST