Kesrick Williams has opened up on the on-field battle with Virat Kohli during last year and also the 'notebook' celebrations. Williams told Kohli, 'just bat and shut up' in Hyderabad during the 1st T20I in Hyderabad which India won after the Indian captain's superb 94 not out
Bengaluru: West Indies paceman Kesrick Williams has revealed what he told Indian captain Virat Kohli during their T20I contest last year and how the Delhi right-hander responded to his 'notebook' celebration that he had done in 2017.
During the India-West Indies T20I series in December 2019, in the opening match in Hyderabad, Kohli guided the hosts home with a superb knock of 94 not out. India chased down 208 to win by six wickets in 18.4 overs.
Also read: Gautam Gambhir questions ICC Test rankings
That match is best remembered for Kohli's batting and also the skipper mimicking 'notebook' celebration. In 2017, Williams had dismissed Kohli in an ODI and he had unveiled 'notebook' celebrations.
It was Kohli's time to return the favour as he hit a superb six off Williams in Hyderabad and mimicked 'notebook' celebration towards the West Indies' paceman. Williams was plundered for 60 runs in 3.4 overs without a wicket.
Also read: Virat Kohli picks his 'favourite' match
On that day (December 6, 2019), this is what Kohli had said. "Williams had given me the notebook when he dismissed me in Jamaica (2017), so I remembered it from there. We gave each other a high-five later. Play hard but respect the opponent."
Kesrick Williams 😂😂😂😂 pic.twitter.com/Evb2vJKdhZ

— Abhimanyu (@hashtagsboy) May 7, 2020
Now, the 30-year-old Williams has spoken in detail as to how Kohli's gesture upset him that day and left him leaking plenty of runs. And, the battle did not end there in Hyderabad, it went on in the second T20I in Thiruvananthapuram (December 8, 2019) and in the final T20I in Mumbai (December 11). India took the series 2-1. Kohli was the Man-of-the-series.
Also read: Virat Kohli speaks on playing in empty stadiums
In Thiruvananthapuram, Williams dismissed Kohli and the bowler put a finger on his lips. Here is what Williams said about the entire episode during that series.
"Virat Kohli is the first person I did that notebook celebration on in Jamaica. When I did the notebook celebration, I did it because I liked it and I did it for my fans. But Kohli didn't see it that way," Williams told the International Cricket Network 360.
"After the game finished, I went to shake his hands, Kohli said good bowling but the celebration eeeh and he walked off. He didn't walk off rudely. But it was the end of our greeting. 'I felt good playing against you', he's the best player in the world, whatever, whatever. We went our separate ways," added.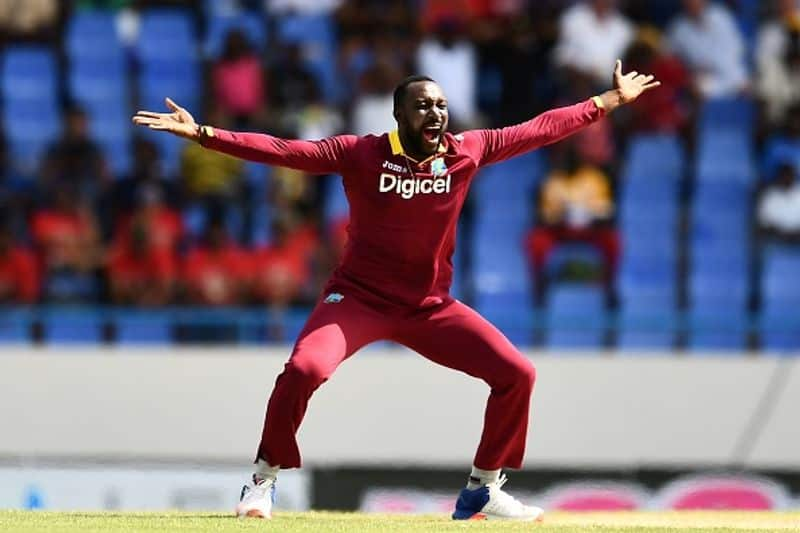 Williams, who has played eight ODIs and 25 T20Is, said, "Last year in India, as soon as Mr Virat Kohli walked into bat, he walks straight at me and says, 'the notebook celebration thing is not going to work here tonight. I'm going to make sure it won't work'."
Also read: Exclusive interview with MSK Prasad
He continued, "I am like, 'Seriously, this was in 2017'. Every ball I bowled he said something but, honestly to God, the only thing I said to Kohli, when he started (batting) in Hyderabad, was, 'mate, just bat and shut up, just bat. Really, you sound like a child.' That's all I said to Kohli.
"But all he really heard was just, 'can you just bat and shut up', the part about child and whatever he didn't hear because I was walking back. That's all I said but he kept talking," he said. "He didn't say anything rude, he didn't say anything disrespectful. All he said was 'this celebration will not work here tonight, I'm gonna make sure it doesn't work'.
"In the match he beat me really bad, I got confused, because he got into my head honestly and I kept thinking it is alright, he got into my head and that's why he beat me badly. "Next day, I'm all over India newspapers, I'm being honest I felt bad. But I like a challenge, I love a challenge and I love fame…"
This is how it all ended, according to Williams. "At the end of the day, we didn't have any bad energy, we shook each other's hands, we go our separate ways. He is not disrespectful, he is very professional. I am very professional. When we have issues on the field, we don't carry it off the field. When you are on the field, we show a lot of professionalism, that is our job. We have an image to protect as well. We never had that argy-bargy in the field. But I can't wait for a full game."
Last Updated May 12, 2020, 10:36 AM IST