Titas Sadhu: The tale of a sprinter and swimmer becoming a World Cup-winning pacer
ICC Women's U-19 T20 World Cup 2023: India is the event's inaugural edition champion. One of the Indian stars of the tournament is Titas Sadhu, formerly a sprinter and a swimmer, and she can now call herself a World Champion in cricket.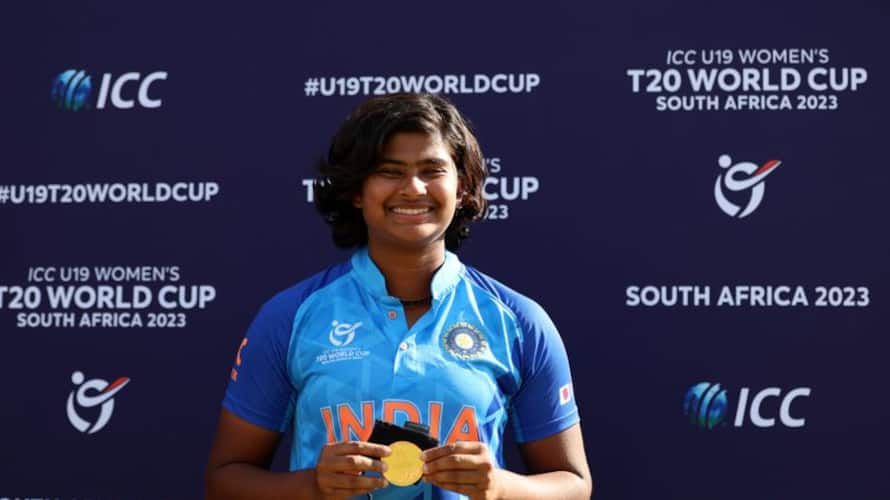 Cricket happened by fluke for the country's latest pace sensation Titas Sadhu, who dished out match-winning figures of 4-0-6-2 as India shot out England for 68 on the way to lifting the inaugural ICC U-19 Women's T20 World Cup trophy on Sunday. Following in her father's footsteps -- a state-level athlete -- Titas started her journey into sports as a sprinter and switched to swimming and table tennis. But, one fine day, the multi-talented girl kept scores for her ancestral cricket club, Rajendra Smriti Sangha, near Hooghly's Mohsin College in Chinsurah, about 50km north of Kolkata. It was then and there that she fell in love with cricket. Extremely good with numbers, Titas scored 93 per cent marks in her Madhyamik exams. She continued keeping scores for her team.
One fine morning, when her club side fell short of a net bowler, they called up Titas. Since then, she has never looked back, even dropping out of school to pursue the sport. The Bengal team's bowling coach Shib Shankar Paul, who was in charge of the senior women's side in 2016-17, recollects the day Titas's childhood coach Priyankar Mukherjee brought her to him.
ALSO READ: 'HAPPY THAT MY DAUGHTER IS A PART OF THAT WIN' - PARSHAVI CHOPRA'S FATHER ON INDW U-19 T20WC TRIUMPH
"Her childhood coach Priyankar Mukherjee insisted I look at the promising player. She indeed was [talented]. She is about five-feet-eight-inches tall and well-built, so she could bowl at a good pace. But, what impressed me most was the swing and bounce she could bounce," Paul told PTI on Sunday.
Her exploits with the ball were on display at the Senwes Park in Potchefstroom on Sunday when the right-arm pacer rattled Seren Smale's middle stump with a delivery that came back in sharply. She joined the Bengal camp, but it took a bit of effort on Paul's part to get her into the senior team. Titas got her first break for the state at the senior level before representing the national U-19 side.
ALSO READ: ICC Women's U-19 T20 World Cup 2023 - India decimates England by 7 wickets; supporters delighted
Paul said Titas had a bright future and she could become a fine pace-bowling allrounder for India. "She is [also] a natural big hitter and can effortlessly smash sixes," Paul added. Former Cricket Association of Bengal (CAB) president Avishek Dalmiya remembers giving Titas a chance in the state's senior team.
"It's great to see someone we backed perform on the biggest stage. We had identified her through our grassroots programme, and she has lived up to our expectations. I'm sure she has a great future. With Richa Ghosh and Titas in the team, it shows the strong supply chain from Bengal and is encouraging ahead of the Women's Premier League (WPL) auction," said Dalmiya.
ALSO READ: IND vs NZ 2022-23, 2nd T20I - India sneaks past in a low-scoring thriller; netizens gladdened
Titas's exploits in South Africa were grandly celebrated in Chinsurah. A festive atmosphere prevailed on Sunday, with folks tuning in to their mobile phones to catch up on the U-19 World Cup final on streaming apps. "Please call me after the match presentation. I want to see her receive the Player-of-the-Match award," her childhood coach Mukherjee pleaded.
"She is brilliant and has a great grasping power, something that has stood out. Extremely hardworking, she could manage both her studies and cricket well. Having started as a sprinter, she's extremely fit and has it in her to take [her cricket] to the next level," Mukherjee added.
ALSO READ: IND VS AUS 2022-23: 'INDIAN SIDE IS POWERFUL; ALMOST IMPOSSIBLE TO DEFEAT IN HOME CONDITIONS' - IAN CHAPPELL
Hailing from a well-to-do family, finances were never a problem for Titas, and her father was always there to support her. "She did all the hard work. I just guided her. Imagine running 22km a week, irrespective of the weather. She has many such performances for Bengal and was their leading wicket-taker last season. We knew she had it in her, and finally, she showed it today," said her father, Ranadeep.
Having registered for the upcoming WPL auction, it will be busy days ahead, and her father is still determining when she will get to sit for her Class 12 exams. "For the last two years, she has not appeared for exams. It would not be easy to make it this time, too, unless they make a special case for her. We are not sure whether she will be able to pursue her studies," Ranadeep signed off.
(With inputs from PTI)
Last Updated Jan 30, 2023, 11:09 AM IST