ODI World Cup 2023: NZ's Kane Williamson gears up for warm-up matches return after injury layoff
New Zealand cricket captain Kane Williamson prepares for his comeback after an ACL injury, aiming to lead his team in the ODI World Cup 2023 warm-up matches.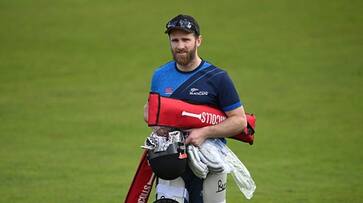 New Zealand's cricket captain, Kane Williamson, is all set to make a triumphant return after a prolonged absence due to injury in his team's ODI World Cup 2023 warm-up matches, starting in India this week. Williamson, a star batter, has not participated in any cricket matches since March when he sustained a ruptured anterior cruciate ligament (ACL) in his right knee while fielding for the Gujarat Titans during the IPL. In April, he underwent surgery to address the injury.
"The plan is to be involved in the warm-up games. There is a strong desire to be involved as much as I can," Williamson said ahead of the team's departure to India. "Basically, it's just wanting to progress what I am doing now the running, the fielding, time in the middle with the bat."
New Zealand's ODI World Cup 2023 warm-up matches are set against Pakistan and South Africa, scheduled for September 29 in Hyderabad and October 2 in Thiruvananthapuram, respectively. The team's tournament opener will be against England in Ahmedabad on October 5.
When asked about his current physical condition and discomfort, Williamson replied, "Not a huge amount," adding that while there's some uncertainty with the increasing load on his knee, it has been feeling quite good in recent weeks. He acknowledged that there are occasional variations in his condition, but he remains committed to making the most of the warm-up games, both individually and as a team, without putting excessive strain on his injury.
Kane Williamson played a pivotal role in New Zealand's campaigns during the 2015 and 2019 World Cup editions, leading them to successive finals. His return is highly anticipated by fans and crucial for the team's prospects in the upcoming tournament.
Reflecting on the most challenging aspects of his recovery, Williamson highlighted that it's not so much the sprinting but the deceleration and change of direction that pose the greatest difficulties. "Not so much the sprinting, more the slowing actually. From sprinting, the braking, a little bit of a change of direction. It's all been part of the plan, and introducing it towards the end of recovery," he said.
Last Updated Sep 27, 2023, 1:49 PM IST