India vs Australia: Who will win the ODI World Cup 2023? Scientific astrologer makes BOLD prediction (WATCH)
The market of predictions for the ODI World Cup 2023 final between India and Australia is high. Various fans, experts, astrologers, and the common man are busy making his/her prediction for the auspicious final on Sunday. Scientific astrologer Greenstone Lobo has shared his prediction.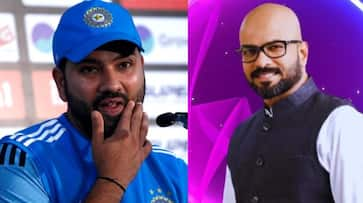 The all-interesting India vs Australia ODI World Cup 2023 match is set to take place on Sunday. Many cricket fans, experts, and astrologers are already predicting and expressing their set of results. It is tough to predict a clear winner as both teams are stacked with quality.
Scientific astrologer Greenstone Lobo has gone on to present his understanding and prediction behind auspicious India vs Australia ODI World Cup 2023 final. The young astrologer has backed his prediction with scientific understanding from the movements of planets and the birth chart analysis of players and their captains.
In his prediction, Greenstone Lobo cited that sports persons born in the 1980s have been extremely fortunate to dominate the game they are representing in. He gave the example of Rafael Nadal's dominance against his rival Novak Djokovic. Though, Novak Djokovic also has been 80s born as even he has dominated the court of tennis. 
Greenstone Lobo revealed that greater fortunes await for Rohit Sharma as a captain of the national side. The Indian captain was born in 1987 and the winner of this World Cup is expected to have arrived on the earth between 1986-1987. Australia captain Pat Cummins was born in 1993 and currently, his stars and planets are not aligned for a World Cup trophy.
Apart from Rohit Sharma, Virat Kohli and Shubman Gill have greater fortunes in the World Cup Final. Shubman Gill's Uranus and Pluto are powerful. He is poised to do well according to Greenstone Lobo. KL Rahul and Jasprit Bumrah are also likely to showcase their respective cricketing prowess in what could seem a decimation of the Australian team on Sunday.
Last Updated Nov 18, 2023, 4:41 PM IST