Haider Ali's Bizarre Dismissal Leaves Fans 'Stumped' in T20 Blast Match: WATCH
Haider Ali comically dismissed in a T20 Blast match, leaves fans amused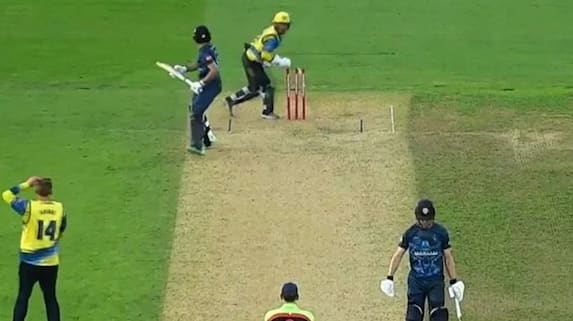 In a recent T20 Blast game against Warwickshire, young Pakistani cricketer Haider Ali added his name to the list of players who have experienced peculiar moments on the field. During the match, Haider Ali made an inexplicable decision, resulting in his own dismissal.
Playing for Derbyshire, Haider Ali faced spinner Danny Briggs in the 11th over. Anticipating Ali's movement, Briggs delivered the ball wide, beyond the batter's reach. Normally, the wicketkeeper would have easily dislodged the bails, but this time, Alex Davies fumbled while collecting the ball. Seizing the opportunity, Ali returned to his crease, thinking he was safe.
However, in a sudden change of heart, Haider Ali left his crease again, attempting to steal a quick single. As he departed, he realized that the wicketkeeper had already gathered the ball. Davies promptly removed the bails, sending Ali back to the dugout.
Also read: WTC Final, IND vs AUS: 'Bahut Sara runs banao' urge Shubman Gill fans as batter gears up for ultimate Test
This incident could have altered the course of the match since Haider Ali had been batting exceptionally, scoring 48 runs off 34 balls. Nonetheless, Derbyshire emerged victorious in the high-scoring encounter.
Warwickshire posted a formidable total of 203 runs in their innings, largely due to Sam Hain's blazing 79 off 36 balls. In response, Derbyshire's opening pair, comprising Haider Ali and Luis Reece, provided a strong start. However, Ali's dismissal in the second ball of the eleventh over left the team needing 108 runs for victory. Captain Leus du Plooy's heroic 66 off 25 deliveries eventually guided his side to triumph.
Fans took to Twitter to express their astonishment and criticism of Haider Ali's peculiar dismissal. Some questioned whether it should be considered a run-out rather than a stumping, as Ali had left his crease to attempt a run.
Also read: WTC Final, IND vs AUS: After successful IPL, is in-form Shubman Gill ready for Oval clash? Batter responds
A few fans also suggested that the wicketkeeper deceived Ali by making it appear as though he missed the ball, arguing that it should not have resulted in a wicket.
Last Updated Jun 8, 2023, 8:11 PM IST