Goosebumps! 'Jeet Tere Haath Main' anthem goes viral ahead of India vs Australia WC final (WATCH)
Star Sports India (Media) Group has released a heartwarming anthem cum album dedicating it to India's glorious ODI World Cup 2023 performance so far. The clip has gone viral on various social media platforms.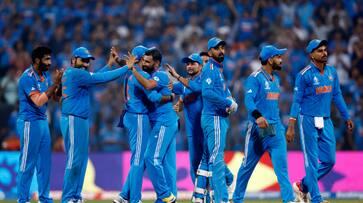 The ODI World Cup 2023 fever is at its peak as it is drawing towards a thrilling conclusion on Sunday with two of the best cricketing teams on the planet facing each other in a dapper on Sunday. Amidst the fantastic occasion, Star Sports Media has released an emotional anthem for the Indian cricket team capturing the glorious moments in the journey. 
Star Sports India released their anthem cum album named 'Jeet Tere Haath Main' recently. The album has captured all the golden moments that have had a greater impact on India's overall performance. The dedicated album is having a major impact on the Indian fanbase. It has already gone viral on various channels of social media.
The men in blue have had a mesmerizing journey in the ODI World Cup 2023 so far. They have been unbeaten throughout the tournament and have finished in the first position of the points table. India achieved this incredible feat by beating the Netherlands in the final league game in Bengaluru.
Their next game against New Zealand was a display of another set of quality. India's batting prowess was through in the first semi-final clash on Wednesday. The display from Virat Kohli and Shreyas Iyer sealed the deal in the batting department while Mohammed Shami struck lightning to the Kiwis with his seven-wicket haul that confirmed India's presence in the ODI World Cup final.
The men in blue will be seeking a similar performance to overcome the Aussies who themselves have come into the final after a dominating display against the Proteas. It has been the case with South Africa where they have lacked when it mattered the most.
Last Updated Nov 18, 2023, 5:15 PM IST