WATCH: MS Dhoni's heart-warming interaction over chocolates with a fan goes viral
A heartwarming video featuring cricket legend MS Dhoni has taken the internet by storm during his USA vacation.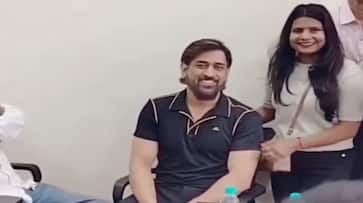 The internet is currently abuzz with a heartwarming and amusing interaction involving cricket legend Mahendra Singh Dhoni during his vacation in the USA. While he's been in the spotlight for various reasons during his trip, this particular incident is all about a sweet connection – chocolates.
As he hands over the autographed memorabilia, Dhoni playfully asks the fan to return the chocolate box he had presumably been holding for him. With a chuckle, he says, "Chocolate wapas do. [Give back the chocolate.]" The video's caption humorously captures the moment, stating, "MS Dhoni after giving the autograph to a fan: 'Give back the chocolates'."
Since its posting, the video has garnered over 600,000 views and counting, demonstrating its widespread appeal. Users on 'X' have found the exchange not only entertaining but also a testament to Dhoni's keen observation skills, proving that even the smallest details do not escape the former Indian team captain's notice.
Dhoni, who was recently spotted playing golf with former US President Donald Trump, has once again captivated social media with his endearing gesture. In a brief video clip shared on the platform 'X' (formerly Twitter), Dhoni can be seen autographing mini bats for a lucky fan. However, what truly adds a delightful twist to the encounter is Dhoni's request for something unexpected – a chocolate box.
In a trip filled with exciting moments, this sweet and amusing exchange with a fan adds yet another memorable chapter to MS Dhoni's USA vacation.
Also Read: Moeen Ali joins elite club with 100 ODI wickets for England
Last Updated Sep 11, 2023, 6:19 PM IST