Asian Games 2023: Nepal's Dipendra Singh sets new record of the fastest T20I fifty; Smashes six sixers - WATCH
Nepal's cricket sensation, Dipendra Singh, made history during the Asian Games 2023 with a remarkable display, smashing six consecutive sixes and achieving the fastest T20I fifty in just 9 balls.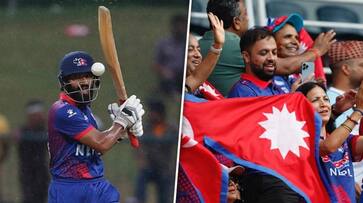 Nepal's star batsman, Dipendra Singh, etched his name in the annals of cricket history during the Asian Games 2023 match against Mongolia with a breathtaking performance. Dipendra Singh's remarkable feat included smashing an astounding six consecutive sixes and reaching the fastest T20I fifty in just 9 balls, breaking Yuvraj Singh's 16-year-old record.
In a record-breaking spree, Nepal's batting lineup not only displayed their prowess but also set three different world records in this high-octane clash. Led by the explosive 19-year-old left-handed batter, Kushal Malla, who achieved the fastest-ever T20I century in just 34 balls, Nepal catapulted their way to an unprecedented total of 314/3 in 20 overs. Malla's incredible innings featured 12 sixes and eight fours, leaving spectators in awe and surpassing the previous joint record held by David Miller and Rohit Sharma.
Dipendra Singh Airee, batting at No. 5, then took center stage, rewriting the record books with his lightning-fast fifty. In just nine balls, Dipendra reached this milestone, bettering Yuvraj Singh's iconic record set in 2007. Yuvraj's record-breaking half-century against England during the ICC World T20 featured six consecutive sixes off Stuart Broad.
While Dipendra's incredible performance came against the underdog team Mongolia, it was a monumental achievement that drew praise from cricket enthusiasts worldwide. Dipendra's six successive sixes mirrored Yuvraj's feat, adding an electrifying dimension to the game.
Notably, this outstanding performance propelled Nepal to a historic team total of 314/3, marking the first time in T20I cricket history that a team has breached the 300-run barrier. Afghanistan's previous record of 278/3 against Ireland in 2019 was surpassed, underlining Nepal's dominance in this match.
Dipendra Singh's remarkable display and Nepal's record-breaking innings will be etched in the memory of cricket fans and serve as an inspiration for aspiring cricketers on the grand stage of the Asian Games.
Also Read: Asian Games 2023: Sangita's hat-trick powers India to 13-0 victory over Singapore
Last Updated Sep 27, 2023, 1:56 PM IST