Asian Games 2023: Sangita's hat-trick powers India to 13-0 victory over Singapore
Sangita's hat-trick led the Indian women's hockey team to an emphatic 13-0 victory over Singapore at the Asian Games.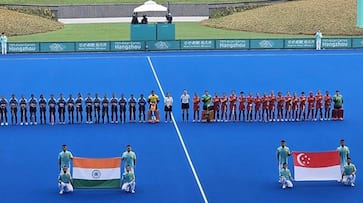 In a sensational display of skill and teamwork, Sangita delivered an impressive hat-trick as the Indian women's hockey team secured a resounding 13-0 victory over Singapore during their riveting clash at the Asian Games. The match between India and Singapore in the women's hockey competition was a thrilling encounter that kept fans on the edge of their seats throughout.
Before Singapore had a chance to recover from the early setback, India swiftly added two more goals through Sushila Chanu Pukhrambam and Deepika. In the waning moments of the first quarter, Navneet Kaur secured a double, extending India's lead to a commanding 5-0.
As the second quarter commenced, the Indian squad displayed the same relentless determination. Deep Grace Ekka and Neha contributed two additional goals to India's tally, while Sangita netted the eighth goal of the match. At the midway point, India maintained a commanding 8-0 lead.
Following the halftime interval, the Indian team maintained their dominance and continued to accumulate goals in the second half. Salima Tete, Sangita Kumari, Vandana Katariya, and Monika collectively scored five goals in the remaining two quarters, sealing a comprehensive victory for India, with Sangita Kumari achieving a hat-trick.
The Indian women's hockey team is scheduled to face Malaysia in their next fixture at the Asian Games 2023, slated for Friday.
Having been a consistent presence at the Asian Games since the 1982 edition, where they clinched the gold medal, the Indian women's team has a rich history in the tournament. In the previous Jakarta Asian Games in 2018, India secured the silver medal, highlighting their competitiveness at the highest level of the competition.
Also Read: Asian Games 2023: India secures Gold in Women's 25m pistol team event in Hangzhou
Last Updated Sep 27, 2023, 12:40 PM IST