Watch: Virat Kohli is 'dinosaur on the loose' during lockdown; Anushka Sharma shares video
In a video shared by Anushka Sharma, Virat Kohli is seen walking like a dinosaur and roaring at their Mumbai home. Don't miss this funny video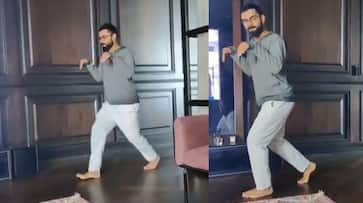 Mumbai: Amid the lockdown in India, Virat Kohli has turned entertainer for his wife Anushka Sharma and millions of his followers on social media.
On Wednesday (May 20), Kohli was walking like a dinosaur and imitating the extinct animal. And he roared like a dinosaur as well. The video was shared by Anushka on both of her Twitter and Instagram handles.
Also read: Virat Kohli speaks on his 'only weakness in life'
She captioned the six-second video, "I spotted .... A Dinosaur on the loose." As soon as the Bollywood actress posted the clip, fans had a good laugh. There were many comments on social media.
Watch: Virat Kohli's weightlifting video leaves cricketers, fans awestruck
Both Kohli and Anushka have been active on social media, posting messages and videos for their followers. They have been urging citizens to take care of their health and to stay at home during the lockdown.
On Tuesday (May 19), Kohli shared a video of him lifting weights. Cricketers and fans were awestruck after watching Kohli's fitness workout. Earlier, he had shared a video of him running.
With all cricket matches suspended due to the virus, it is still not clear when players will be back to training. Recently, the ministry of home affairs (MHA) gave a go-ahead to open sports complexes, stadiums without spectators.
The Board of Control for Cricket in India (BCCI) said it will further wait before taking any decision about calling Indian cricketers for individual training.
Last Updated May 20, 2020, 2:44 PM IST