Coronavirus: Virat Kohli-led India likely to travel to South Africa for 3 T20Is
Cricket South Africa (CSA) and Board of Control for Cricket in India (BCCI) have agreed for a three-match T20I series in August. India are likely to head to South Africa. However, this series will depend on the coronavirus (COVID-19) situation which has halted all cricket matches around the world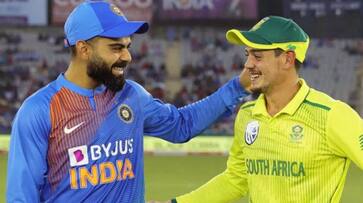 Bengaluru: The Virat Kohli-led India are likely to travel to South Africa to play three Twenty20 Internationals in August, according to Cricket South Africa (CSA).
In an online press conference on Thursday (May 21), CSA said it is hopeful that the Board of Control for Cricket in India (BCCI) will agree for the short limited-overs rubber.
Also read: Virat Kohli prays for Bengal, Odisha
According to reports, BCCI president Sourav Ganguly and CSA's director of cricket Graeme Smith had discussed about this series earlier this year.
In March this year, India-South Africa three-match ODI series was rescheduled due to the coronavirus. The opening ODI was abandoned due to rain in Dharamsala. Later, the BCCI decided to call off the remaining two matches in Lucknow and Kolkata due to the virus.
Also read: 'Dinosaur' in Virat Kohli's house
Initially, the BCCI had decided to play the matches behind closed doors but later said South Africa will visit the country later this year.
"The Board of Control for Cricket in India (BCCI) along with Cricket South Africa (CSA) on Friday (March 13, 2020) announced to reschedule the ongoing ODI series in view of the Novel Corona Virus (COVID-19) outbreak. Cricket South Africa will visit India at a later date to play 3 One-day Internationals. The BCCI-CSA will jointly work out the revised schedule," the BCCI had said.
Due to the virus, all cricket matches have been suspended. It is still not clear when international cricket will restart.
Last Updated May 21, 2020, 3:57 PM IST