'Boys' Day out selfie: Mystery hand on Rishabh Pant's shoulder finally revealed
After years of speculation, Mayank Agarwal has confirmed that it was his hand resting on Rishabh Pant's shoulder in a 2019 cricket photo, ending a long-standing mystery. Twitter users reacted with humor and relief.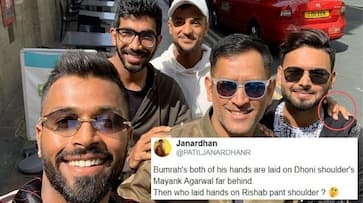 The mystery that had cricket fans puzzled for years has finally been solved! It all started with a photograph taken during the 2019 One Day World Cup in England, featuring some of India's cricketing stars like Rishabh Pant, Mahendra Singh Dhoni, Jasprit Bumrah, and Mayank Agarwal. The photo, originally shared by Hardik Pandya, seemed innocent enough, but it soon became the centre of a hilarious debate: Whose hand was resting on Rishabh Pant's shoulder?
Hardik Pandya had cheekily captioned the photo as a "Boys' Day Out," adding an extra layer of intrigue. This single picture turned into an internet sensation, inspiring memes and endless confusion. Everyone had a theory about the mysterious hand! Some thought it must be Mayank Agarwal's hand due to its remarkable reach, while others speculated that someone might be hiding behind Rishabh Pant. There were even wild guesses that it could belong to Rishabh's girlfriend, though there was no evidence to support that claim.

Rishabh Pant thrilled to see 'some light in the dark tunnel'; shares high-intensity workout video - WATCH
Recently, a Twitter user decided to resurrect this four-year-old enigma, and just when we thought the mystery might never be solved, Mayank Agarwal stepped in to set the record straight. In a tweet that had everyone laughing, he declared, "After years of extensive research, debates, and countless theories, the nation has finally been informed that it was my hands that were on Rishabh Pant's shoulders that day." And just like that, the speculation came to an end.
However, the meme parody has continued with several users speculating how Mayank Agarwal might have stretched his hands on Rishabh Pant's shoulder. The hilarious comments have made the photo go viral once again. Many users have commented to 'Show some proof' of how it can be possible to stretch the hand that long.

'Best 2-and-half hours of my life': Fan shares 'unforgettable' experience of meeting MS Dhoni on flight
Fans have been commenting that Mayank Agarwal is an alien, and one user Saurabh Malhotra (@MalhotraSaurabh)'s hilarious comment states how memes and jokes on the Internet can make something as funnier as it can get. He wrote - 'Aapke haath toh kanoon se bhi zyada lambe hain !!!!!!!'. We sure can relate to this comment.
Twitter users reacted with a mix of humour and relief, thanking Mayank for finally putting the picture puzzle to rest. Some couldn't resist poking fun at the length of his hands, suggesting he change his name to "Longhands." So there you have it, folks—the mystery of the photograph has been hilariously and conclusively solved!
Last Updated Sep 28, 2023, 4:51 PM IST