'Best 2-and-half hours of my life': Fan shares 'unforgettable' experience of meeting MS Dhoni on flight
An avid fan shares a serendipitous encounter with cricket legend MS Dhoni on a flight from Mumbai to Ranchi, where they engage in a two-hour conversation, revealing Dhoni's humility, life lessons, and personal anecdotes.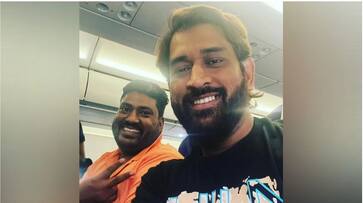 Former India cricket captain and wicketkeeper-batter, MS Dhoni, renowned as "Captain Cool," remains a globally respected and beloved figure, inspiring generations with his dedication and seriousness towards his goals. Despite retiring from international cricket three years ago, his enduring popularity and admiration endure. Recently, a fortunate individual shared his encounter with the cricket legend following a last-minute seat change on a flight from Mumbai to Ranchi.
Chandan Sinha took to Instagram, sharing a series of selfies with Dhoni and expressing pride in the fact that they hail from the same town, living less than a kilometer apart for two decades. He revealed how he had never crossed paths with Dhoni despite being a devoted fan of his cricketing prowess. In the caption, he recounted the unexpected turn of events during his flight.
"His house was less than a km where I lived for 20 years. Pride of our town. A huge fan of his game, yet never bumped into him. But God had it all planned. Who knew that the last-minute seat change from the last to second row would turn out to be the best two and half hours of my fan life," he wrote in the caption.
Sinha described how he settled into his seat and then heard a familiar voice requesting passage to the window seat—it was none other than Dhoni himself. The encounter with the cricket superstar left Sinha in awe, and it took a moment for him to realize the surreal nature of the situation.
"I took my seat and settled in. Just a little later I heard a known voice asking me to let him pass to his window seat. A surreal encounter with Mahi, was an absolute dream come true. Shellshocked, took me a moment to realise what was happening," he added.
Dhoni, known for taking naps during flights, deviated from his routine due to their shared hometown. His humility and approachability enhanced the remarkable moment. Sinha detailed their two-hour conversation, which covered a wide range of topics, from Dhoni's entrepreneurial ideas to life lessons. Dhoni also shared that he personally takes his daughter Ziva to school when he is in town, further endearing himself to Sinha.
"His humility made the moment even more incredible. On hearing that we are from the same town he let go his usual habit of taking a boosting nap during his flights. We had two hours of fascinating conversation. From his entrepreneurial ideas to life lessons his wisdom knows no bounds," he continued.
Their discussion spanned favorite cuisines, vacation plans, Dhoni's affection for Ranchi, and his passion for automobiles. Dhoni's serene demeanor during the conversation reaffirmed why he's affectionately known as "Captain Cool."
He concluded, "From sharing about his favourite cuisines to vacation plans. From his love for Ranchi to his love for automobiles. How he drops his daughter to school every morning when in town. His calm demeanour reaffirmed why we call him Captain Cool."
Sinha's post garnered significant attention online, with users expressing envy and admiration for the once-in-a-lifetime experience of sitting next to the cricket legend.
One user exclaimed, "Bro got a profile picture for life."
Another remarked, "What a moment, once in a lifetime & best in a lifetime, 2 & half hours with the legend himself sitting next to you."
A third user added, "You actually lived that moment."
"Lucky you," said one person.
"Wow," added another user, encapsulating the sentiment shared by many.
Last Updated Sep 24, 2023, 12:02 PM IST