Varsha's banana pulp business: A tale inspired by PM Narendra Modi's 'Mann Ki Baat'
Varsha, an M.Tech graduate from Chamarajnagar, Karnataka, transformed discarded banana pulp into a successful business after hearing about it on PM Modi's "Mann Ki Baat." With eco-friendly products and organic fertilizers, she empowers women, supports farmers, and aims to provide jobs, exemplifying rural entrepreneurship and sustainable practices.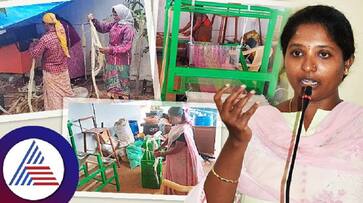 From a small corner of Chamarajnagar, Karnataka, an inspiring success story has emerged with Varsha, a young entrepreneur, who turned discarded banana pulp into a thriving business. She drew inspiration from Prime Minister Narendra Modi's "Mann Ki Baat" program and decided to venture into her own business.
Varsha, a smart M.Tech graduate from Alahalli village, Chamarajnagar, wanted to make her own way in business. Her dream was to empower women and make a positive change. So, she set out on a journey that changed not just her life, but her whole community.

Independence Day 2023: How an engineering graduate won the hearts of food lovers in Bengaluru
She got her great idea when she understood about utilising leftover banana pulp. Usually, farmers throw away this pulp after obtaining bananas. But Varsha saw something more valuable in the banana pulp. She heard about it on "Mann Ki Baat" and found a video from Coimbatore that showed how to make useful things from banana leaves.
Inspired by this, Varsha decided to implement the idea on her own. She spent 3 lakh rupees on machines from Coimbatore and started a small factory in Ummattur village. At first, she hired five women and aimed to sell her products in organic shops, Google, Flipkart, and Amazon.
What's special about Varsha's work is that she cares about nature. She uses the juice from banana pulp to make organic fertilizers and also encourages nearby banana farmers to give her the leftover stalks. This helps reduce waste and gives farmers more income.
Varsha's smart work caught the attention of a company in Coimbatore. They showed interest in buying the mats made by Varsha. She believes more people will like her products because they're eco-friendly. Her husband, Srikanthaswamy, helps his wife in her thriving startup, along with doing his job in Mysuru.

From software coding to culinary success: The success story of an engineer's Farm-to-Plate idea
She's also functioning with local farmers and wants to buy their banana stalks at a fair price. This will help the farmers to reduce wastage and surge their income. Varsha's business has grown beyond her dreams. While she had started her business, listening to Mann Ki Baat, she had employed 5 women. Now, more than 15 rural women work under her and support her venture.
She aims to provide more jobs to local women in the coming days through her business. Her family is also supporting her business. Her thriving business is an example of how a rural woman is leading a thriving business through the inspiration from PM Narendra Modi's Mann Ki Baat. She inspired the local women to initiate their own businesses in rural areas.
Last Updated Aug 13, 2023, 3:03 PM IST