Hong Kong: Thousands gather to thank the US for human rights bill
The law meant that Washington can impose sanctions on Chinese and Hong Kong officials deemed responsible for human rights abuses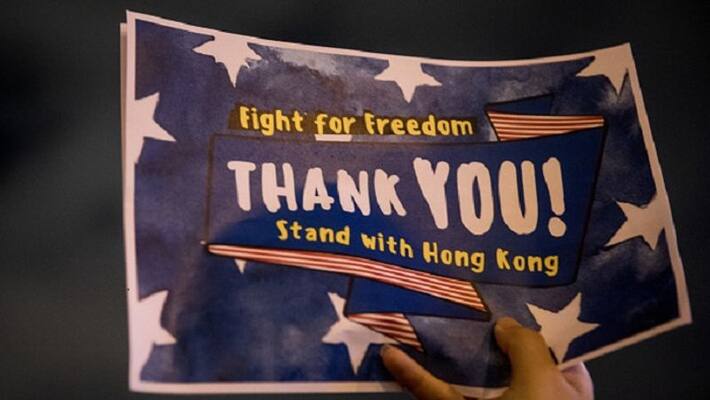 Hong Kong: Thousands gathered at Central Hong Kong to thank the United States. President Donald Trump signed into law the Hong Kong Human Rights and Democracy Act on Wednesday. The pro-democracy protesters embraced it as a sign of support. 
One of the protesters said, "I think it is good for Hong Kong because given the special cases and conditions, the country's economy is going to change and it will be good for the citizens." 
The legislation, approved unanimously by the Senate - the United States' upper house, and by all but one member of the House of Representatives - the lower house, last week. This requires Hong Kong's special trade status with the US to be reviewed annually by the State Department, and also threatens sanctions for human rights violations. 
It allows the US to introduce economic sanctions against Hong Kong and withdraw its special trade status if it believes the government is failing to protect democracy and human rights. Pro-democracy activist Joshua Wang held the legislation as a victory for the protest movement which paralysed parts of the city since June. 
He said, "It just encouraged leaders around the world and the politicians are now aware that it's time to stand up for Hong Kong."
However, the Hong Kong rejected the legislation accusing the US of interfering in the city's internal affairs and sending a wrong message to violent protesters. Critics included the city's former chief executive. 
"After all these years, it'll still be only as to why people in the West have the habit of opening their mouths about how their country is, as if they have done better dealing with their domestic affairs," said CY Leung the former Hong Kong chief executive. 
China echoed that message describing it unnecessary and warranted. China has accused United States President Donald Trump of "sinister intentions" after the President signed a Hong Kong human rights bill. 
Last Updated Nov 29, 2019, 7:16 PM IST