Historic! NASA's all-female team of astronauts conduct spacewalk at ISS for Expedition 70 Mission (WATCH)
NASA astronauts Jasmin Moghbeli and Loral O'Hara make history with a groundbreaking all-female spacewalk at the International Space Station, conducting tasks and medical exams while contributing to vital space research for Expedition 70.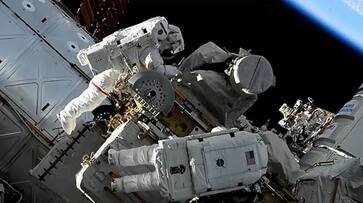 On Wednesday morning (November 1), NASA astronauts Jasmin Moghbeli and Loral O'Hara made history by engaging in a rare all-female spacewalk outside the International Space Station (ISS). It marked the first spacewalk for both crew members, with tasks scheduled to involve the removal of radio communications gear and the swapping of hardware facilitating the orbiting lab's solar arrays to track the sun.
Following the spacewalk, on Thursday, the astronauts, Jasmin Moghbeli and Loral O'Hara, underwent their first post-spacewalk medical examinations. During this process, the pair took a few moments to measure each other's vital signs, including temperature, blood pressure, and pulse. Subsequently, they commenced the clean-up of the Quest airlock and deactivated their spacesuits.
Additionally, Jasmin Moghbeli downlinked imagery captured by spacewalk cameras on Wednesday. She also took photographs of the spacesuit gloves for further inspection and analysis by ground-based mission controllers. Meanwhile, Loral O'Hara logged into a computer to participate in a cognitive assessment.
Both astronauts arrived at the International Space Station earlier in the year and are integral crew members of Expedition 70, which commenced on September 27, 2023.
The Expedition 70 crew's primary focus is to study various microgravity phenomena, aiming to benefit humans residing on and beyond Earth. During their prolonged stay in Earth's orbit, the astronauts will explore subjects such as heart health, cancer treatments, space manufacturing techniques, and other crucial areas of research.
Last Updated Nov 3, 2023, 11:32 AM IST