WATCH: Ludhiana man posts video of dead rat in restaurant food; leaves netizens shocked
In a bizarre incident, a Twitter user has claimed that a dead rat was found inside a dish served at a famous restaurant in Punjab's Ludhiana. Another video on Facebook shows a heated discussion between the customer and restaurant management.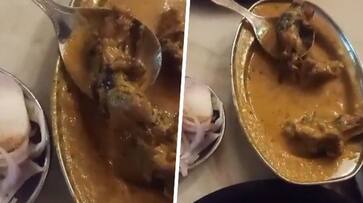 In a strange incident, a Twitter user recently made an alarming claim that a deceased rat had been discovered inside a dish served at a renowned restaurant in Ludhiana, Punjab. The video capturing this incident quickly gained viral attention on social media platforms, showcasing a rat immersed in gravy within a non-vegetarian dish served to a family at Prakash Dhabha. However, the restaurant has vehemently denied all allegations and asserted that the customers are attempting to tarnish the reputation of their establishment.
Also read: Air France passenger finds blood-soaked carpet on flight to Toronto; shares distressing details (WATCH)
The video in question was shared by a Twitter user named NC. The footage briefly exhibits a person showcasing various food items arranged on a table. Eventually, the camera zooms in on the dish in question, where the individual employs a spoon to extract the lifeless rat. The video, spanning only 31 seconds, even displays the tail of the rodent.
"Parkash dhaba Ludhiana. India Serve rat in chicken curry. Restaurant owner bribe the food inspector and go free??? Very poor standards in Kitchen of many Indian restaurants. Be aware," reads the caption of the post.
In the meantime, a another video posted on Facebook depicts a contentious exchange between a patron and restaurant staff in which the latter is accused of giving the patron the dead animal to eat.
Many people on the internet were horrified by the footage and criticised the restaurant for their negligence. "Matter should be dealt sternously by the health authorities," said a user.
A second user added, "Pity all those who ate the gravy. Customer court case straightaway . Can expect heavy penalty few years down the lane."
Also read: WATCH: YouTuber proposes her partner in front of iconic Kedarnath temple; leaves internet divided
"License should be cancelled for this restaurant," said a third netizen, while a fourth added, "Restaurant name should be LFC Ludhiana Fried Chuha."
Another user noted, "This is not a new episode in Ludhiana. Here Owner is completely lying. The eatery joint has an unhygienic kitchen which is kept open and large number of rats can be seen visible. These r several other famous restaurants in Ludhiana where rats are visible."
Last Updated Jul 4, 2023, 1:27 PM IST