Meet Dexter, three-legged dog walks like human after losing a leg (Watch)
A six-year-old dog who is lucky to be alive after a dangerous car accident has learned to walk like a human.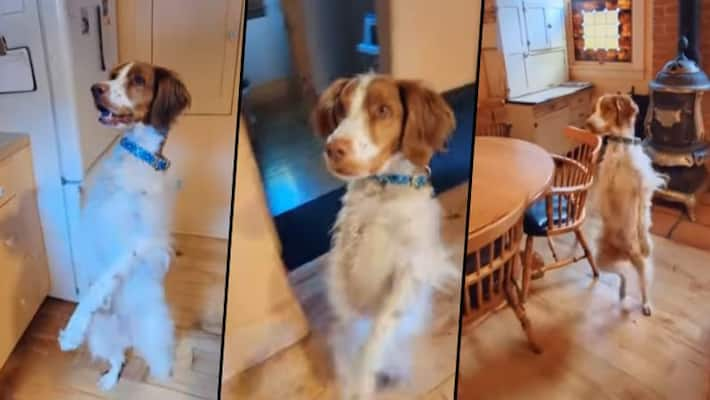 After losing a leg in a fatal car accident, Dexter, a three-legged dog, learned to walk upright like a human.  Dexter owners were surprised when they saw the dog walking on his hind legs.
The six-year-old dog underwent five surgeries after meeting with an accident. Then he learnt how to walk, losing a front leg. 
Also Read: (Watch) Spider crawls out of zookeeper's mouth; here's what happens next
After that, he gradually recovered and had two sets of pins put into his remaining arm within a year. During his healing, in May 2016, he began slowly shifting his weight onto his hind legs. However, at present, the Brittany dog is back to living his normal life.
An Instagram page called dexterdogouray posted this video of Dexter walking with the caption, "Amazing Dog! Watch him walk on his hind legs! It's real."
Also Read: Watch: When cow came to rescue an innocent dog from a man (Video Video)
. 
The video shows the dog walking in and around the kitchen on his hind legs. Dexter lives with his owner Kentee Pasek in the US state of Colorado.
After being shared online, the video has accumulated over 4738 likes and several reactions. Netizens showered their love for the dog in the comments section. A user wrote, "He ceases to amaze me with ever captured moment you sharw!" Another person commented, "He has an advantage over other doggies….he can see the counter top." Take a look.
Last Updated Nov 3, 2021, 1:08 PM IST