(Watch) Spider crawls out of zookeeper's mouth; here's what happens next
A giant tarantula crawling out of Zookeeper Jay Brewer has gone viral on digital media.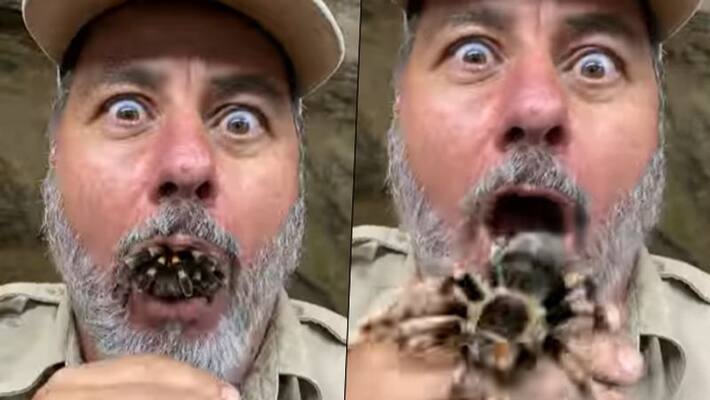 A spider crawling over your body will give you chills down your spine. However, a few people have a soft corner for these creatures, not just that they are comfortable taking them in their inside their mouths. One such video of Jay Brewer,  the owner of 'The Reptile Zoo' in the United States, emerged on social media. Jay's Instagram page shows his love for the crawling creatures as he posted several pictures and videos of him playing with reptiles and spiders. 
In a recent video, Jay can be seen playing with a tarantula that walks out of his mouth. Yes, the video starts with a giant, hairy tarantula coming out of Jay's mouth, and he says, "never go to the reptile zoo during Halloween because you get all these weird dreams where you feel tarantulas just came out of your mouth." People around the world are preparing for Halloween, in this time, this video undoubtedly gives spooky vibes to netizens.
After being shared online, the clip has accumulated over 1.6 million views and 95k likes. A user wrote, "My guy just stuck a spider in his mouth.. what a legend." Another person commented, "ay... u are crazy awesome" Watch the video.
Last Updated Oct 31, 2021, 2:04 PM IST