Watch: When cow came to rescue an innocent dog from a man (Video Video)
Indian Forest Officer Susanta Nanda shared a disturbing video on Twitter. The clip shows a man harassing a dog taking an unexpected turn when a cow turned the tables on him.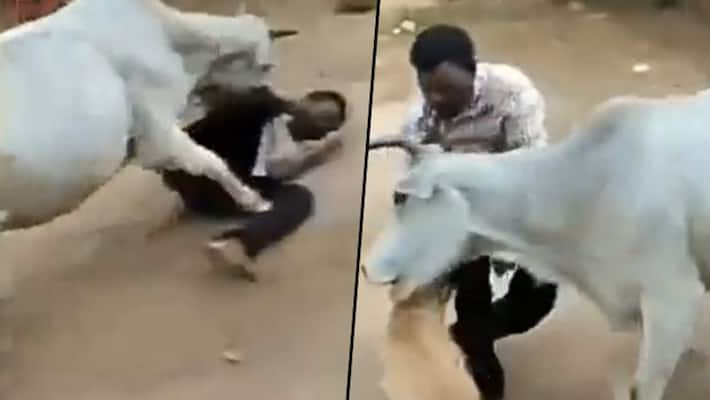 Animal abuse is a punishable offence and is not acceptable at all. One such video of a man harassing a dog has been stopped by a cow, making us believe in karma. 
A disturbing video of a man harassing a dog took an unexpected twist when a cow attacked him. The video goes viral on social media, shows the man constantly pulling the puppy's ears up by its neck as the animal screams and whines in pain.
Yes, a black and white man was seen irritating the dog even as it cried loudly—however, a nearby cow came to rescue, barged into the scene and pushed the feeble dog away from the man. Also, before the man realised, the cow started charging the man to teach him a lesson. Indian Forest Service officer Susanta Nanda shared this clip on Twitter with the caption, "Karma (sic)". Towards the end of the video, the cow can be seen hurting the man, pushing him to the ground and dragging helplessly for a few seconds. 
After being shared online, the video has gone crazy viral and accumulated over 227k views and 4246 retweets. Social media users criticised the person in the video and also the one who recorded the whole act without helping the dog. Watch the video.
Last Updated Nov 2, 2021, 5:40 PM IST