Poor Migrant Labours Sprayed By Poisonous Chemical After Being Convinced 'They Will Get Food'
About 50 of us were seating and waiting for food and bus. Suddenly they began spraying water on us. after that the children started crying and women were also shocked.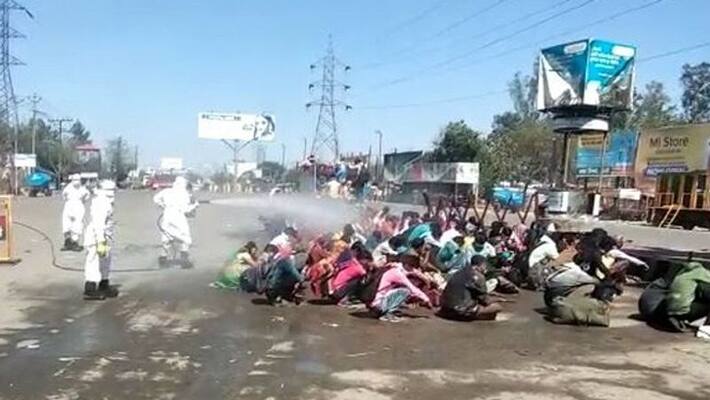 Bareilly. Lockdown may locked the mind of our system. due to the coronavirus outbreak many incidents coming with full of inhumanity. As country ban make thousands of Migrants helpless. Now in a shocking incidents approximately 100 migrants including women and children who were returning to their homes in Uttar Pradesh were sprayed with chemical on Sunday. Videos and photos related to this incident are heart wrenching. 
At the bareilly bus stand a team on sanitising duty gave bath by poisonous chemical to the poor labours after sitting them in a long queue. There are similar reports from the literate state Kerala too.
First Convinced Them For Food
According to reports, the migrants who had walked down from Noida and Delhi, were told to sit at the bus stand by officials who said that they would be taken on buses and would be given food.
The Children Began Crying
A victim mohd afzal shared the horrific experience said, "About 50 of us were seating and waiting for food and bus at the satellite bus adda when some men in protective suits came and began spraying water on us. They said that they were form the sanitization team and were sanitizing us. The children began crying and women were also shocked."
They Complained Itching In Their Eyes And Rashes
He further added that after they were sprayed with water, the children complained of itching in their eyes while some women developed rashes. Afzal works as a courier boy in a company in Noida and has returned to his home in Shahjahanpur by foot.
What Was The Camical?
According to sources, the sanitizing team sprayed the group with a diluted mixture of sodium hypochlorite. Sodium Hypochlorite is the main ingredient in laundry bleach. It is used extensively as a bleaching agent in the textile, detergents, and paper and pulp industries. It is also used as a disinfectant.
Bareilly DM Accepted It As A Mistake
Soon after the videos of the incident went viral on social media, DM Bareilly acknowledged the fact and said that appropriate action would be taken against the officials guilty for the act. He also said that municipal corporation and fire fighting teams were deployed for sanitizing the buses but the officials took this step attempting to be extra cautious.
A junior official, however, said that since a Corona positive patient had been reported in the district on Sunday, a massive sanitization drive was undertaken.
Last Updated Mar 30, 2020, 8:19 PM IST