Prime Minister Modi lauds India's vaccination story; highlights resolve of 130 crore India
The one billion vaccination mark is the result of the commitment of 130 crore Indians, Prime Minister Modi said.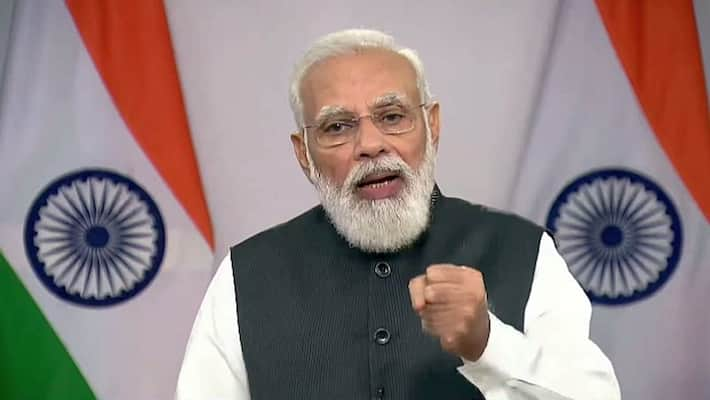 Prime Minister Narendra Modi on Friday addressed the nation a day after India's Covid-19 vaccination coverage crossed the 1 billion mark. The speech came even as the Prime Minister -- in an opinion piece -- recalled how the herculean effort involving different sections of society made the achievement possible. Here are highlights of his address:
* The one billion vaccination mark is the result of the commitment of 130 crore Indians. It is a reflection of new India, which sets difficult targets and knows how to achieve them. This is a nation that leaves no stone unturned to meet its goals. A billion vaccinations are not just a number but the beginning of a new era in Indian history. The achievement is a testament that India can achieve a tough aim successfully. It shows that country works hard for the fulfilment of its goals.
* The speed at which India crossed the 1 billion vaccination mark is being recognised worldwide. Today, many people are comparing India's vaccination program with other countries of the world. However, one thing that is often missed in this analysis is where we started from.
* Other countries had decades of expertise in researching and developing vaccines for other big countries of the world. When the biggest pandemic in 100 years struck, some people asked would India be able to fight this global pandemic? From where will India get the money to buy so many vaccines from other countries? When will India get the vaccine? Will the people of India get the vaccine or not? Will India be able to vaccinate enough people to stop the pandemic from spreading? There were various questions but today, this 100 crore vaccine dose is answering every question.
* Taking everyone along, the country started the campaign to provide free vaccines for everyone. Be it the poor or rich, be it villages or cities, the country had only one mantra that if the disease does not discriminate, then there cannot be discrimination in the vaccine too. The government ensured that the VIP culture did not dominate the vaccination campaign. India administered 100 crore vaccine doses to its citizens without taking any money. This milestone will now ensure that India is considered safer from Coronavirus across the world.
It is a matter of pride for us that India's vaccination programme has been science-born, science-driven and science-based. From the development of vaccines to inoculation, science has been the basis for all processes. We made public participation our first strength in the country's fight against the pandemic. Some people asked whether the disease would go away if the country banged 'thalis', lit lamps. Those initiatives reflected the awakening of collective power of the citizens of the country and their unity.
Last Updated Oct 22, 2021, 10:26 AM IST