Anti-Conversion Bill tabled in Karnataka Assembly
The much hyped anti-conversion bill was tabled in the Karnataka Assembly on Tuesday. The Bill proposes punishment for those involved in illegal religious conversion. Opposition Congress claimed that the government brought this Bill without much discussion.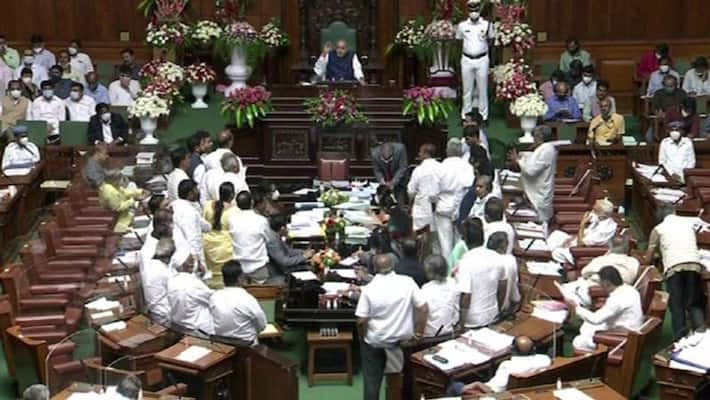 The contentious anti-religious conversion bill was tabled today in the Karnataka Assembly following which there was an uproar due to Opposition making hue and cry and claiming the government of tabling the bill in 'hurry' and without prior intimation. After objections from the Opposition, CM Bommai in his reply mentioned that illegal religious conversion is harmful and impacts women and children.
A whip was also issued to all BJP lawmakers to attend tomorrow's session where deliberations will be held on the bill. CM Bommai also said that when the Opposition was invited, it did cooperate and stayed away from the discussion. He further stated that Opposition parties are opposing the bill for vote bank politics.
Congress questioned BJP as to why the government hid from the fact that it was going to table the bill and did not mention the agenda of discussion for today in advance.
The Congress said it will oppose the bill as it is against minorities.
Opposition leaders criticized the move and asked what was the need to bring the bill in urgency. Opposition leader in the house Siddaramaiah said, with this new draft bill if made into law, people will not even have a choice to choose life partners and termed the BJP administration as anti-people.
KPCC chief DK Shivakumar said that the government has got this bill with bad intentions. Echoing similar sentiments Congress MLA Rizwan Arshad said that the bill aims at targeting Christian institutions. He also mentioned that this is an effort to break the minorities further.
As per information, some key provisions of the bill include 3 to 5 years jail term for persons involved in illegal religious conversions. A penalty will also be imposed on the guilty. The person willing to change a religion must declare before the district administration 60 days in advance and the DC can also call for objections. The objections will be examined.
If a person marries with the sole purpose of conversion, the marriage will be termed invalid. Affected persons, family members, guardians and relatives can also approach the police and register a complaint.
Last Updated Dec 21, 2021, 8:51 PM IST