OnePlus 6 vs iPhone X: is half priced OnePlus 6 better than Apple iPhone X?
We have a run through of the specs, design, price and much more to help you choose between OnePlus 6 and iPhone X.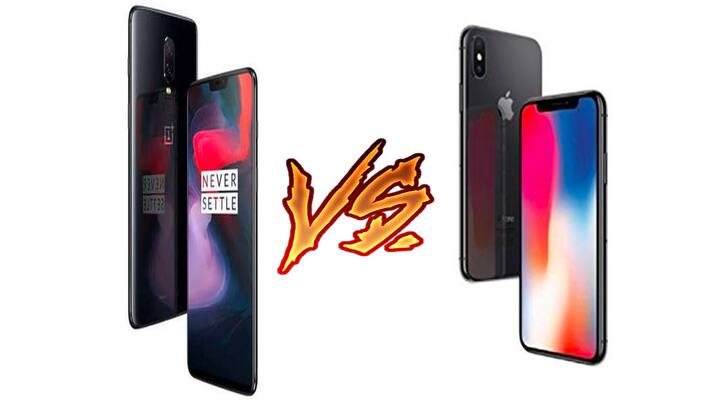 The OnePlus 6 was unveiled in London yesterday. OnePlus is set to host their third launch event in India scheduled for today in Mumbai. This model is an upgrade to the Oneplus 5T and gives a fierce competition to the iPhone X, Samsung Galaxy S9+ and other top smartphones. 
But, how does it give fierce competition to iPhone X which is the bestselling smartphone in the market?  
We have a run through of the specs, design, price and much more to help you choose between OnePlus 6 and iPhone X.
OnePlus vs iPhone:
1. Design
OnePlus 6 is slightly bigger than the iPhone X for a larger display. It is also a touch heavier at 177g compared to the iPhone X's 174g. 
The notch is at the top of the screen in both devices, but on the OnePlus 6 it can be hidden within the settings of the phone, so it blacks out the bits to the sides of the notch at the top of the screen. 
The only similarity between OnePlus 6 and iPhone X is that both have glass backs with metal edges.
2. Display
At first glance, OnePlus 6 may look similar to iPhone X because of their identical screen patterns, but there are a lot of differences between them.
OnePlus 6 has 6.28-inch optic AMOLED display with full HD+ resolution, that is 1080x2080. Whereas, the Super AMOLED display on the iPhone X is smaller at 5.8-inches, but it has better resolution at 1125x2436.
That means there are more pixels per inch on the iPhone X (458ppi) than on the OnePlus 6 (402ppi). So, if you want a larger screen, then you'll probably enjoy OnePlus 6, but if you want higher resolution display, then you will be likely to go for the iPhone X.
3. Camera and battery
When we talk about the camera features on both phones, we notice that both are incredibly different from each other. 
The OnePlus 6 comes with a dual sensor 16MP and 20MP working together to take photos. Both of those are f/1.7 and can record slow-motion videos as well.  On the front of the phone, there is a 16MP (f/2.0) selfie camera.
iPhone X, on the other hand, looks far worse with a dual sensor rear camera that's a 12MP sensor which has an aperture of f/1.8 and another 12MP with f/2.4 aperture too. The camera feature in iPhone X also includes 2x optical zoom, which is something you won't find on the OnePlus 6.
OnePlus 6 contains a 3300mAh cell inside with Dash Charge fast-charging onboard. The iPhone X comes with a 2716mAhcell that has fast-charging too and will go up to 50% full in 30 minutes of charging. iPhone X features wireless charging, but OnePlus 6 doesn't. 
4. Price and availability
OnePlus 6 will be available for sale around the world on May 22. The pricing begins at ₹35,826 for the cheapest version, and the highest priced version is available for ₹42,599. iPhone X is already for sale and is much more expensive than OnePlus 6. The price begins at ₹67,657 for the 64GB one, while the 256GB one is much more expensive at ₹77,816. That makes the OnePlus 6 half the price of iPhone X. 
Although iPhone X has slightly more inbuilt features and that OnePlus 6 is half the price of iPhone X, it depends on your interests and how much money you are willing to spend on your phone. 
Last Updated May 17, 2018, 6:02 PM IST