Why is No. 9 very popular among Indian cricketers?
Little did we know there was a huge fan following of No. 9 in the Indian dressing room.
Here is an interesting list any Indian cricket fan should not miss.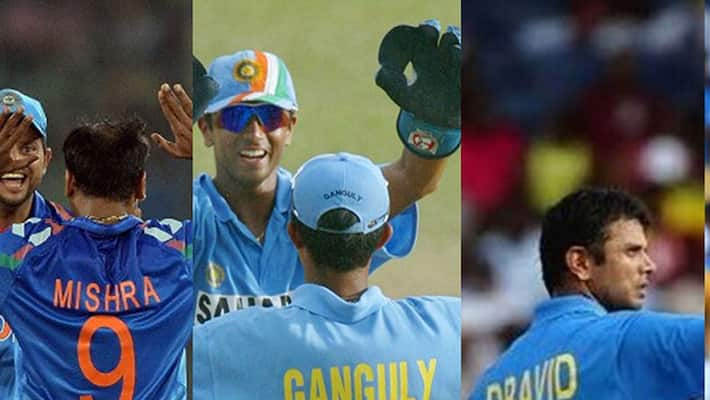 While most of the players choose jersey numbers according to their birthdays, only a few go to a numerologist, while players like Rahul Dravid have the cheekiest of reasons to pick the particular number.
Scroll down for the video:
However, interestingly at least four known players had chosen the No. 9, but only one could wear it eventually.
Parthiv Patel:
It is the wicketkeeper-batsman, who wear the ODI jersey No. 9 in the Indian team. However, the last time he had played in the blue jersey was back in 2012. He now wears the No. 42 behind his back.
He had picked No. 72 in Mumbai Indians as the numbers two and seven add up to nine. 
Yusuf Pathan:
The Baroda cricketer was very unlucky as he neither got the No. 9 shirt in the Indian team nor in Indian Premier League's franchise, Kolkata Knight Riders (KKR).
He had then asked for No. 27 in KKR which was occupied too, so he asked the KKR to print 999 behind his jersey. While he was just pissing him off, the manager printed it.
Ravichandran Ashwin:
Ashwin, who made his ODI debut seven years after Patel played his first game, also wanted No. 9 because it's his favourite number and in school, his role number was also 9. Since No. 9 was unavailable, Ashwin picked No. 99.
Read more: 
Amit Mishra:
There was a controversy regarding the jersey numbers when the leg-spinner also wanted to wear No. 99. However, since Ashwin has more ODIs and wickets than Mishra, he got to wear it. Mishra now has No. 9 behind his ODI shirt. 
Ajinkya Rahane:
Rahane was the fourth cricketer and the last of the above lot to make his ODI debut. He had to settle for No. 27 because 2 + 7 = 9.
Sourav Ganguly:
The No. 99 earlier belonged to the Prince of Kolkata. Nevertheless, Ganguly picked the number only because his numerologist said it would be lucky for him. It indeed was - India played a World Cup final under Ganguly!
Rahul Dravid:
Do you know which is the best way to remember your wife's birthday? Make that as your jersey number. Dravid wore shirt No. 19.
The number had a NINE too!
Read more: 
Virat Kohli:
There have been multiple reasons behind Kohli's No. 18 shirt. His had No. 18 behind his shirt when he won the ICC Under-19 World Cup as the Indian captain. Also, his father passed away on December 18, which was also a reason for Kohli to choose No. 18.
Now, what is 1+8? Yes, it is NINE!
.
Last Updated Mar 31, 2022, 3:00 PM IST