Indian racing sensation Kush Maini finds a mentor in F1 champion Mika Hakkinen
Kush Maini, a rising star in Indian motorsport, receives a significant boost in his pursuit of Formula 1 dreams with the mentorship of two-time F1 world champion, Mika Hakkinen.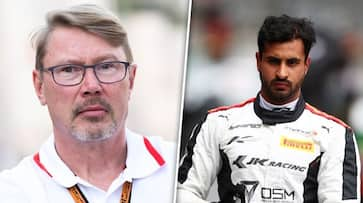 Young Indian racing talent, Kush Maini, receives a significant boost in pursuit of his Formula 1 dreams as he secures mentorship from the two-time F1 world champion, Mika Hakkinen. Known for his role in developing Valtteri Bottas the current Alfa Romeo Sauber driver, Haikkinen is now set to guide 23-year-old, Kush Maini, hailing from Bengaluru. Maini has had a promising year with multiple top-5 positions in Qualifying and a podium finish in Melbourne. Under Hakkinen's mentorship, Maini is gearing up for a more focused and structured approach in the 2024 racing season. Maini shared, "I think from next year, my approach and that of my team is going to be a lot more structured thanks to Mika. Basically, the way Mika works is you narrow down everything to the point where the driver just has one job."
The younger Maini, who is the brother of accomplished racer Arjun Maini, has prior experience in F2 and served as a development driver for the Haas F1 team. Currently, he drives for Mercedes AMG in Europe. Notably, he secured the runner-up position in the 2020 British F3 Championship, a series Hakkinen himself triumphed in back in 1990.
Maini expressed his gratitude, saying, "I've watched Mika since I was very young. So, just for him to believe that I could reach Formula One shows that we've done something right in these last 15 years. It's a massive weapon you have in your arsenal when you have Mika Hakkinen standing behind you."
Regarding Maini's potential journey to F1, Hakkinen emphasized, "I've been following Kush, understanding his abilities, his talent for driving. It's a very interesting journey together to develop, to be an even more professional racing driver. F1 is our objective, not forgetting the current situation in F2."
In addition to Hakkinen's mentorship, Guillaume le Goff will assume the role of Kush Maini's manager, overseeing all of his requirements.
Also Read: Former Formula 1 boss Bernie Ecclestone pleads guilty in fraud case
Last Updated Oct 12, 2023, 6:14 PM IST