Asian Games 2023: Sunil Chhetri to lead India in Hangzhou despite player release challenges
Sunil Chhetri, the prominent Indian striker, will captain the national football squad at the Hangzhou Asian Games, as the All India Football Federation (AIFF) overcame hurdles in forming the team due to club-related player release issues.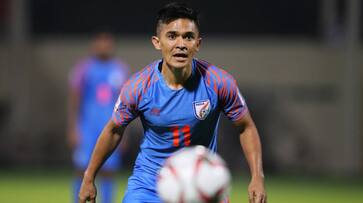 Sunil Chhetri is gearing up to lead the Indian football squad at the forthcoming Asian Games, marking a significant moment for the sport in the country. The All India Football Federation (AIFF) recently unveiled a 17-member squad set to compete in Hangzhou, China. However, the journey to assemble this team was far from straightforward. AIFF faced substantial challenges, primarily stemming from the reluctance of various clubs to release their players. This reluctance was largely attributed to scheduling conflicts with the lucrative Indian Super League (ISL), which commences on September 21, coinciding with the Asian Games' football competition.
The AIFF persevered through prolonged negotiations and discussions with clubs to piece together a formidable squad. In the end, they successfully secured nine players from the original squad of 22, a list that prominently featured the veteran striker Sunil Chhetri. The remaining slots in the squad were filled by promising talents from diverse clubs, reflecting the nation's commitment to nurturing young footballing talents. Nevertheless, one crucial aspect remains uncertain - the participation of head coach Igor Stimac.
Despite the last-minute rush and myriad challenges, the AIFF expressed its sincere appreciation to the Indian Super League clubs and the Football Sports Development Limited (FSDL) for their unwavering cooperation in facilitating the release of players for the national squad. This collaborative effort highlights the dedication of all stakeholders to Indian football and its growth on the international stage.
India Squad: Gurmeet Singh, Dheeraj Singh Moirangthem, Sumit Rathi, Narender Gahlot, Amarjit Singh Kiyam, Samuel James, Rahul KP, Abdul Rabeeh Anjukandan, Ayush Dev Chhetri, Bryce Miranda, Azfar Noorani, Rahim Ali, Vincy Bareto, Sunil Chhetri, Rohit Danu, Gurkirat Singh, Aniket Jadhav.
Also Read: Asian Games 2023: Esports and Breakdancing make their debut, Chess and Cricket return in Hangzhou
Last Updated Sep 14, 2023, 6:53 PM IST