Sunil Chhetri embraces 'bonus period' of career; yet to decide on retirement
Indian football legend Sunil Chhetri finds himself in the twilight of his career, but retirement is still an open question. While the 2026 World Cup is off the table, Chhetri remains dedicated to India's qualifying matches, led by coach Igor Stimac.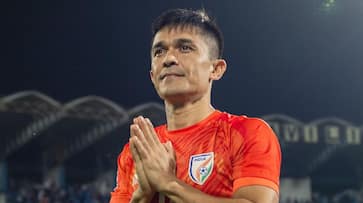 Sunil Chhetri acknowledges he's in the "bonus period" of his illustrious career but hasn't set a retirement date. The Indian football icon, aged 39, ruled out playing in the 2026 FIFA World Cup, emphasizing that he's savoring each moment. India is currently gearing up for the 2026 World Cup second round qualifiers, and Chhetri's focus remains on the upcoming months rather than long-term goals. He is realistic about the future and, when the time comes, will step aside if he no longer enjoys the game or can't contribute effectively.
India has been drawn into Group A with Qatar, Kuwait, and Afghanistan, with crucial qualifiers ahead. Despite Chhetri's impressive career, he may not be part of the 2026 World Cup, given his age. However, he remains a dedicated fan of Indian football and will continue to support the team. Chhetri praises head coach Igor Stimac for the team's progress and the positive atmosphere within the squad. He acknowledges the personal transformation that parenthood has brought and expresses his desire to be with his family after away trips.
Qualifying for the 2026 World Cup would be a monumental achievement for India, and Chhetri, like many fellow Indians, eagerly anticipates the day the dream becomes a reality, acknowledging the profound impact it would have on the entire nation.
Also Read: Recruitment to Injuries: Manchester United's roadblocks in their Champions League quest
Last Updated Nov 7, 2023, 4:57 PM IST