Ronaldo vs Messi in Saudi Arabia: PSG boss Galtier explains significance of epic clash of the titans
Paris Saint-Germain will face a combined XI of Al-Nassr and Al-Hilal in a friendly clash on Thursday in Riyadh. Ahead of the game, PSG boss Christophe Galtier has spoken about the importance of a Lionel Messi vs Cristiano Ronaldo clash in the sport.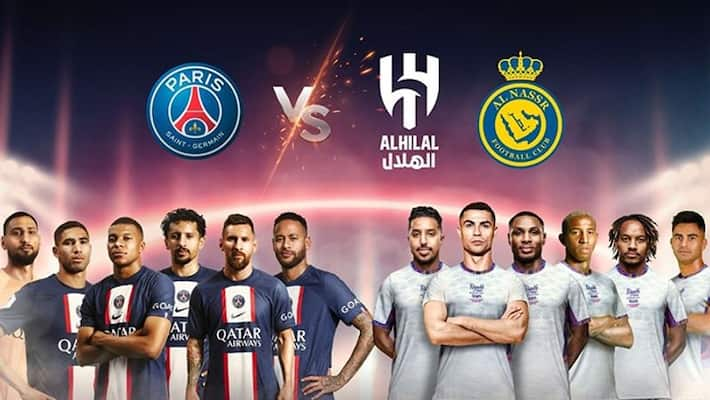 The stage is set for one of the most mouth-watering encounters in football history - Cristiano Ronaldo vs Lionel Messi. The two legends of the sport, who last faced each other during a Champions League clash between Juventus and Barcelona in December 2020, will take the field on Thursday when a combined XI of Al-Nassr and Al-Hilal stars (Riyadh XI) take on Paris Saint-Germain (PSG) in a friendly exhibition. 
Also read: Ronaldo vs Messi: Meet Mushref al-Ghamdi, the Saudi mogul who paid Rs 21 crore for special ticket
Ahead of the Riyadh Season Cup match, PSG boss Christophe Galtier spoke about what fans can expect from the Ronaldo vs Messi clash and the significance of one of football's greatest rivalries on the sport.
"It's good for international football, for football in this region. It's a great promotion of our sport. I think there will be an audience," the French tactician said about the highly-anticipated Ronaldo vs Messi encounter, stressing that it will help promote football in the Middle East.
Galtier added that the presence of "the two most successful active players in the world", in Ronaldo and Messi, will ensure that football will be played with a competitive spirit. "We have adapted. We have very good conditions," the PSG boss said of the team's preparation for the upcoming friendly in Riyadh.
Thursday's match will occur at the King Fahd Stadium at 10:30 PM IST. Fans in India can watch the game LIVE on PSG's social media platforms.
Christophe Galtier feels that PSG will be better prepared for the remainder of the season after their forthcoming friendly and Cup of France match against Pays de Cassel on January 23.
"We must use this match and Monday's match in the Coupe de France (against Pays de Cassel) to both find rhythm on an individual level and more coherence on a collective level, and to finally finding a PSG side which had done well the first part of the season before the World Cup and which is struggling to restart," he stated.
Also read: Ronaldo vs Messi blockbuster in Saudi Arabia: Revisiting 6 most memorable clashes
The French champions have had difficulty getting going after the break brought on by the 2022 FIFA World Cup. Since then, PSG has dropped two league games, reducing their lead atop the Ligue 1 standings to three points. Galtier would hope players like Messi, Neymar Jr., and Kylian Mbappe become comfortable against the Riyadh XI and return to France rejuvenated.
Last Updated Jan 19, 2023, 4:27 PM IST