Premier League 2023/24: Manchester City sets home victories record under Pep Guardiola's leadership
In a remarkable feat of consistency and dominance, Manchester City, under the guidance of Pep Guardiola, established a new Premier League record for consecutive home victories.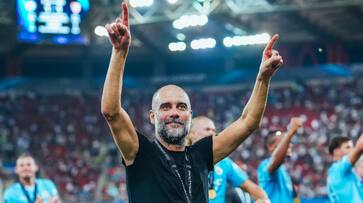 Manchester City sets new premier league home victory record. The memorable moment was created after City's remarkable 4-2 comeback win against Tottenham Hotspur in January 2023. While critiquing his team as a "happy flowers" side, Guardiola also directed his frustration towards the Etihad Stadium crowd. "Our fans were silent for 45 minutes," he lamented.
"I want my fans back. I want my fans who are here, not my away fans, they're the best, but my home fans to support every corner and every action."
Whether City's steadfast supporters took their manager's criticism to heart remains debatable. Nevertheless, the results clearly indicate a resurgence.
The triumph over Tottenham marked the second win in a stunning sequence of consecutive home victories for Guardiola's team and their quietly loyal fan base. Nine months later, a 2-1 victory against Brighton brought City's tally to an unprecedented 21 straight home wins across all competitions, a record in the Premier League's history.
Adding sweetness to this remarkable statistic, City surpassed the previous record held by their arch-rivals, Manchester United.
During the era of Sir Alex Ferguson in the red half of Manchester, United managed 20 consecutive wins at Old Trafford between December 2010 and September 2011. While that streak concluded with a 3-3 draw against FC Basel, it was City who ended United's unbeaten run at their home ground.
Under Roberto Mancini's management, City famously demolished United 6-1, a match encapsulated by the ecstatic commentary of a City supporter as the goals rained down on David de Gea, who was helpless in the United goal.
While City now stands as the Premier League's record-holders, the ultimate record remains held by Sunderland's remarkable team from 1891/92, which boasted an astounding 24 consecutive home victories. Football was a vastly different sport over a century ago, and the tales from those days, such as a goalkeeper abandoning his post to retrieve his blown-off cap, only add to the legend of Sunderland's achievement.
Guardiola's impassioned outburst after the win over Spurs wasn't the first time he had taken a swipe at his own fans. In 2020, the exacting manager implored City supporters to ensure that the Etihad Stadium was "full, full, full" for every match. Opposition fans had even dubbed City's home ground the 'Emptyhad' in response.
During the 21-game winning streak, City's attendance consistently exceeded 50,000 in the 53,400-seat stadium, with fewer than 400 empty seats for over half of those matches.
One of the most extraordinary victories in this record-breaking run was witnessed by over 52,000 fans, a performance that could well be regarded as the pinnacle of Guardiola's tenure as City's manager. In the second leg of last season's Champions League semi-final, City dominated reigning European Champions Real Madrid. With a 2-0 lead at halftime, City had registered 197 attacking touches compared to Madrid's meager ten. By the end of an unforgettable night, in a victory Guardiola had foretold in a pre-match message to Rio Ferdinand, City had convincingly won 4-0, marking an era-defining triumph.
Also Read: EPL 2023-24: Arteta admits to 'mixed feelings' after Arsenal's comeback against Chelsea to secure a draw
Last Updated Oct 22, 2023, 9:43 PM IST