EPL 2023-24: Arteta admits to 'mixed feelings' after Arsenal's comeback against Chelsea to secure a draw
Arsenal manager Mikel Arteta expressed a desire for a better outcome as his team staged a comeback from two goals down to secure a draw against Chelsea at Stamford Bridge in their Premier League 2023/24 clash on Saturday.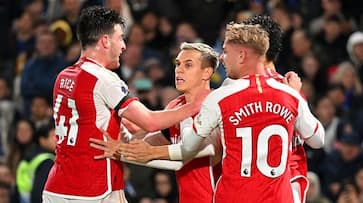 Arsenal's manager, Mikel Arteta, expressed his desire for a better outcome in Saturday's Premier League 2023/24 match as his team managed to salvage a point after being two goals down against Chelsea at Stamford Bridge. The match saw Chelsea take the lead when Cole Palmer scored from the spot in the 15th minute, courtesy of a controversial handball decision involving William Saliba. Chelsea extended their lead when Mikhailo Mudryk surprised David Raya with a shot from an acute angle shortly after the break.
Chelsea appeared on track for their first Premier League win over a top-half team this season until Declan Rice seized an opportunity from a poor pass by Robert Sanchez, scoring from long range. With just six minutes remaining, Leandro Trossard found the back of the net, equalising for Arsenal.
Arteta, reflecting on the game, shared his mixed feelings with BBC Match of the Day, giving credit to Chelsea for their tactical setup. He acknowledged that Arsenal's performance was subpar in fundamental aspects, with a lack of purpose in their ball movement and vulnerability in certain situations, allowing Chelsea to capitalise on counter-attacks.
"It's mixed feelings," Arteta said. "Credit to Chelsea for the way they set up. You have to expect that. We were below par in very basic things and we didn't play with enough purpose with the ball and we were soft in some situations. We allowed them to run which is a really dangerous thing to do."
However, Arteta noted that Arsenal made adjustments in the second half, displaying a different level of intensity and posing more of a threat. The team managed to score two brilliant goals, earning them a valuable point. Arteta stressed their ambition for more despite the comeback, highlighting the team's resilience and belief in their ability to turn the match around.
"We tweaked things and played the second half with a different intensity. We were more of a threat and we should have scored a goal earlier. We scored two brilliant goals which gave us a point but we wanted more. When you're 2-0 down against Chelsea you can drop your head and start to blame each other. But the team never did that they believed they could do it," the Arsenal boss added.
As a result of the draw, Arsenal currently holds the second position in the Premier League table, trailing Manchester City solely on goal difference.
Last Updated Oct 22, 2023, 1:12 PM IST