Supporters slam fan attack on Arsenal goalie Ramsdale; Tottenham's 'cry baby' Richarlison trolled
Fans and football pundits have condemned an ugly incident from Arsenal's 2-0 win against Tottenham Hotspur that saw Gunners' goalkeeper Aaron Ramsdale shoved by Richarlison and kicked by a fan after the final whistle.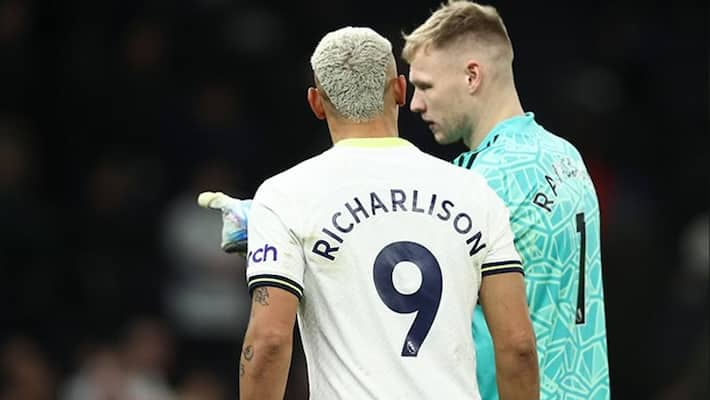 In what has stirred massive outrage among football enthusiasts, fans and pundits condemned an ugly scene from Arsenal's 2-0 victory against Tottenham Hotspur at the north London derby on Sunday, in which the Gunners' goalkeeper got kicked by a fan after the final whistle. 
Tottenham star Richarlison first shoved the Englishman as he walked behind the goalpost to collect his water bottle, and then a fan jumped out of the stands to kick Ramsdale in his back before being pulled away by stewards and the rest of his teammates.
Ramsdale and his colleague Granit Xhaka had to be restrained after the incident before Arsenal boss Mikel Arteta settled things down and took his teammates over to celebrate the victory with the visiting supporters.
"The Spurs fans gave me some throughout the game. I was giving some back. The people I did give it to greeted it sportsmanlike but one fan tried to give me a little (kick)," the Arsenal goalkeeper stated in his post-match interview.
Tottenham defender Eric Dier branded the incident 'unacceptable', while manager Antonio Conte added, "If this type of situation happened, it's not good, it's not positive. I think in every moment we have to show respect, if we want respect, we have to show respect. Honestly, I didn't see it, but if it happened for sure I didn't like it."
Meanwhile, Richarlison's behaviour following the final whistle was also slammed by fans, as the Brazilian forward's action was dubbed as 'all wrong' and was called 'the biggest baby in the league.'
Arsenal boss Arteta was hesitant to talk about the Ramsdale incident after the victory but did confirm that the goalkeeper is OK.
Tottenham promised a stadium ban and 'the strongest possible action' after reviewing CCTV footage to identify the attacker. 
"We are appalled by the behaviour of a supporter that attempted to attack Arsenal goalkeeper Aaron Ramsdale at the end of today's match. Violence in any form has no place in football. The club has reviewed its CCTV footage to identify the supporter and will be working with the Met Police, Arsenal and Aaron Ramsdale to take the strongest possible action, including an immediate ban from Tottenham Hotspur Stadium," it added in a statement.
The Football Association (FA) too has vowed stringent action, stating, "We strongly condemn the incident involving a spectator that followed today's Premier League fixture between Tottenham Hotspur and Arsenal. This is wholly unacceptable behaviour and we will work together with the police, the relevant authorities and the clubs to ensure the appropriate action is taken."
The PFA released a statement later, stating, "Violence towards players is completely unacceptable. These types of incidents are happening far too often."
"Players have a right to be safe in their place of work. When a player is attacked we expect the laws and regulations that are in place to protect them to be properly enforced," it added.
"As the players' union we treat this as a priority issue. We will be continuing to work with the authorities to demand that players and staff are better protected in their place of work," it concluded.
Following this victory, thanks to an own goal from Hugo Lloris and a fantastic strike from Martin Odegaard, Arsenal are eight points clear of second place Manchester City. However, the unfortunate treatment Man of the Match Ramsdale received after the Gunners registered their first win at the Tottenham Hotspur Stadium since 2014 was heavily criticised by fans online.
One supporter tweeted, "What that fan did was an absolute disgrace and should be named, shamed and banned," while another added, "@FA we eagerly await the your statement regarding Richarlison's impeding ban."
Football pundit Jamie Redknapp told Sky Sports the kick was 'completely unacceptable' and added 'that guy should not be allowed in a football stadium', while Gary Neville labelled him an 'idiot'.
Here's a look at how fans reacted to the incident, with some trolling Richarlison for his actions following Arsenal's 2-0 win in the north London derby:
Last Updated Jan 16, 2023, 2:15 PM IST