MLS 2023: Lionel Messi exits Inter Miami's clash with Toronto FC due to suspected injury - WATCH
Lionel Messi's premature departure during Inter Miami's 4-0 victory over Toronto FC has ignited apprehensions regarding his availability for the impending U.S. Open Cup final. With Inter Miami striving for a playoff berth, Messi's injury could have far-reaching implications on the team's season aspirations.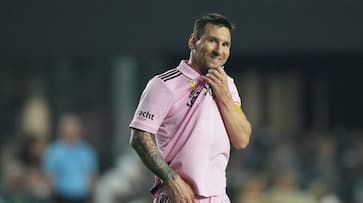 Lionel Messi's return to action for Inter Miami in their 4-0 victory against Toronto FC turned out to be a brief one, lasting just 37 minutes. During the match, Messi decided to remove his captain's armband and walked towards the sidelines, signalling his need to be substituted. Robert Taylor was brought on as his replacement. Messi's inclusion in the starting lineup was eagerly anticipated, as he had missed the previous two weeks due to international commitments and an injury sustained while playing for Argentina against Ecuador.
However, Messi wasn't the sole casualty in the first half. Just three minutes before Messi's exit, Jordi Alba was also forced to leave the field due to an injury.
Messi's injury could potentially have a significant impact on Inter Miami's season. The club has a crucial U.S. Open Cup final scheduled against FC Cincinnati on September 27, and Messi's absence could pose a significant challenge for the team's prospects. Furthermore, Inter Miami is in the midst of a determined push for a playoff spot, and a prolonged absence of their star player could seriously jeopardize their chances of success this season.
In a recent match against Atlanta United, Inter Miami had to play without Messi, and the result was a crushing 5-1 defeat, underscoring the team's dependence on their superstar attacker. The road ahead for Inter Miami may prove challenging as they navigate Messi's injury and strive to achieve their season goals.
Also Read: Cristiano Ronaldo in WWE? Al-Nassr star could feature in Saudi Arabia's Crown Jewel event
Last Updated Sep 21, 2023, 2:02 PM IST