Messi or Ronaldo, Virat Kohli or Rohit Sharma? Congress leader Rahul Gandhi's response will stun you (WATCH)
In a rapid-fire round with Congress leader Rahul Gandhi, intriguing questions unveiled his personal preferences, spanning from fitness routines and entertainment choices to sports allegiances, including the timeless Messi vs Ronaldo debate.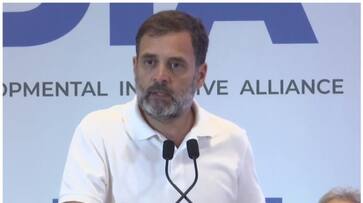 The Conclave 2023, presented by Dalmia Cement,  brought together a galaxy of intellectuals, politicians, thinkers, and leaders to discuss, debate, and explore the important issues of our times. There was one session that took a slightly different route - a rapid-fire round with Congress leader Rahul Gandhi, which had some interesting questions on choices between working out or watching Netflix, Godfather or The Dark Knight, Bharat Jodo beard or clean shave, India or Bharat and more. The audience got to see a different side of the politician as he answered some intriguing question that also revealed his personal preferences.
Among the many questions asked was a key sports question - Cricket or football? In response, Rahul Gandhi was quick to respond 'football', which may have come as a surprise for many given that cricket is considered a religion in India.
The next question posed to him was an obvious one - Lionel Messi or Cristiano Ronaldo?
In response, the Congress leader said, 'Ronaldo', adding "Though I think Messi is a better footballer.  I like Ronaldo's kindness. But if I was running a football team, I would prefer Messi."
To the question Virat Kohli or Rohit Sharma, Rahul Gandhi surprisingly said, "Either. I'm not a huge cricket fan. I know that's not a good thing to say, but I'm not a huge cricket fan."
Also Read: Asian Games 2023: Indian women's 10m air rifle team wins silver; Ramita Jindal bags bronze
Meanwhile, fans of the two legendary footballers and Indian cricket stars took to X to react to Rahul Gandhi's recent revelations. Here's a look at some of the reactions:
Last Updated Sep 24, 2023, 3:31 PM IST