'Marta ends here': Jamaica ruins Brazilian icon's fairytale ending; advances to last 16 in Women's World Cup
Jamaica secures their spot in the last 16 of FIFA Women's World Cup 2023 with a hard-fought draw against Brazil, marking the end of Marta's legendary international career.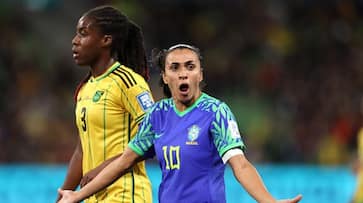 Jamaica secured their spot in the last 16 of the FIFA Women's World Cup 2023 on Wednesday with a hard-fought 0-0 draw against Brazil, a result that also ended the legendary Brazilian attacker Marta's international career. At 37 years old, Marta had announced that this would be her final World Cup, but her dream of a fairytale ending was shattered.
"Not even in my worst nightmares was it the World Cup I dreamed of," she said, looking as shellshocked as she was upset.
Meanwhile, it was a moment of joy for Jamaica, as they reached the knockout rounds for the first time in their history. Lorne Donaldson's team, who have displayed resilience despite facing internal issues with their football federation, will likely face Colombia next after finishing second in their group, behind France.
Donaldson expressed his elation, calling it one of the best days of his life, and emphasized the significance of the achievement for Jamaica. The team's impressive performance is particularly remarkable considering the tensions and disputes with their football federation, including challenges with support, pay, and preparation for the World Cup.
"This is one of the best days I've ever had in my life," Donaldson said. "To see a country like Jamaica be able to do this, it's unbelievable. The girls are doing it for the country, the country should be proud. We had resilience, fight. We are going into a war and we need to be ready. And it was a war, and we stayed in the battle," he added.
The accomplishment of Jamaica, who lost all three of their World Cup matches in 2019, is all the more impressive in light of the tensions that existed behind the scenes. In addition to concerns about wages and inadequate planning in the run-up to the World Cup, Donaldson's team has been engaged in an open conflict with their football association over a lack of support.
Goalkeeper Rebecca Spencer highlighted that their success at the tournament would send a strong message to the officials back home, showing the importance of taking women's football seriously and providing adequate support.
"We know we've got a point to prove and the better we do, the more pressure it creates. We hope they're looking at us and taking us seriously now," she said.
In the crucial FIFA Women's World Cup 2023 match, Brazil needed a win to secure their spot in the next round, while Jamaica only required a draw. As expected, the South Americans dominated possession and had more attempts at goal, playing in front of a crowd of nearly 28,000 spectators.
Despite Brazil's offensive efforts, Jamaica's resolute defense kept them at bay, and they were never seriously threatened during the game. With previous accomplishments like holding France to a 0-0 draw and securing their first-ever World Cup win against Panama with a 1-0 victory, Jamaica displayed a disciplined defensive strategy.
At halftime, the match remained goalless, and Brazil struggled to find creative solutions against Jamaica's defensive wall. The second half saw Brazil continuing to face challenges in breaking down their opponent's defense, leaving them unable to create significant scoring opportunities.
Khadija Shaw, a prolific striker for Manchester City and the standout player for Jamaica, was not able to showcase her attacking prowess during the game.
In the closing stages of the match, Jamaica remained steadfast and resolute, while Brazil seemed to run out of steam and ideas, unable to find a breakthrough.
After the match, Marta, the legendary Brazilian attacker, reflected on the state of women's football, acknowledging that many other teams have caught up with Brazil and the other top sides. She expressed her gratitude for one final World Cup opportunity and shared her happiness regarding the growth and profitability of women's football worldwide.
"We used to see teams that came to the World Cup and scored seven or eight goals, not any more," she said.
"Women's football has been growing and it is profitable. Marta ends here, there is no more World Cup for Marta. I am grateful for the opportunity to have one more World Cup and very happy with what is happening with women's football in the world," the Brazilian legend added.
Last Updated Aug 2, 2023, 9:49 PM IST