Lionel Messi to Inter Miami: Did David Beckham ruin Barcelona & Al-Hilal's party during World Cup 2022 itself?
After days of speculations and hectic transfer parleys, legendary forward Lionel Messi has joined Major League Soccer (MLS) side Inter Miami, with Barcelona and Al-Hilal missing out on the World Cup winner's signature. Was David Beckham the man behind ruining the two club's party?
Legendary forward Lionel Messi's future has been hitting the headlines since the Argentine lifted the coveted World Cup 2022 trophy in Qatar last December. The 36-year-old icon's future, whose contract with Paris Saint-Germain (PSG) ended this month, was the primary focus of discussion during the glittering event that saw the South American giants attain world championship glory for the third time. Barcelona were desperate to bring their club legend to Camp Nou for one last dance and Saudi Arabian giants Al-Hilal were eager to bring one of the greatest footballers to the booming league that now has his arch-rival Cristiano Ronaldo featuring in it for Al-Nassr. However, after months of speculations, rumours and hectic transfer parleys both in Europe and the Gulf nation, Major League Soccer (MLS) side Inter Miami has the last laugh.
Also read: Lionel Messi will play for Inter Miami in MLS next season; heartbreak for Barcelona fans
The David Beckham co-owned club have pulled off a major coup and wooed Messi to make his way to the United States, leaving both Barcelona and Al-Hilal red-faced. Tranfer guru Fabrizio Romano confirmed the news on Wednesday, adding that an official announcement from the Argentine is expected in the coming hours.
There was also talk of returning to Barcelona, where Jorge Messi claimed he would love to return to the La Liga champions. However, their plan to bring back the Catalan club's all-time leading scorer failed to succeed given their financial problems. L'Equipe claimed that a return of Messi to Camp Nou wasn't possible for a number of reasons, including a 'persistent mistrust' of Joan Laporta, president of Barcelona.
As for a Saudi Arabia move, French publication L'Equipe said Messi and his wife Antonella Roccuzzo did not 'see themselves settling with their three boys in the Gulf nation.' The Argentine's decision to reject the Saudi Pro League's offer should be viewed as a loss because the Saudis gave him the chance to reignite his rivalry with Cristiano Ronaldo while also offering him billions of dollars.
Also read: Cristiano Ronaldo fans carpet bomb Lionel Messi with memes after Argentine joins MLS side Inter Miami
Inter Miami is in a critical situation, and this move should give them some encouragement. The Herons are currently last in the Eastern Conference and last overall in the league. The agreement to join the David Beckham co-owned comes as the Argentina national team plans to build a training facility in South Florida. This is Major League Soccer's second major signing of a world-class player that would bring lots of attention to their competition - mirroring the same move Beckham made in 2007.
What's interesting to note is that during Argentina's World Cup 2022 winning campaign in Qatar, David Beckham reportedly took advantage of his presence in the gulf nation and negotiated a move with Messi to Inter Miami. According to a report in MARCA during the glittering event, the Inter Miami co-owner is said to have contacted the Argentine and discuss a possible future move to the MLS side. However, no official confirmation or word on what transpired in Qatar was reported.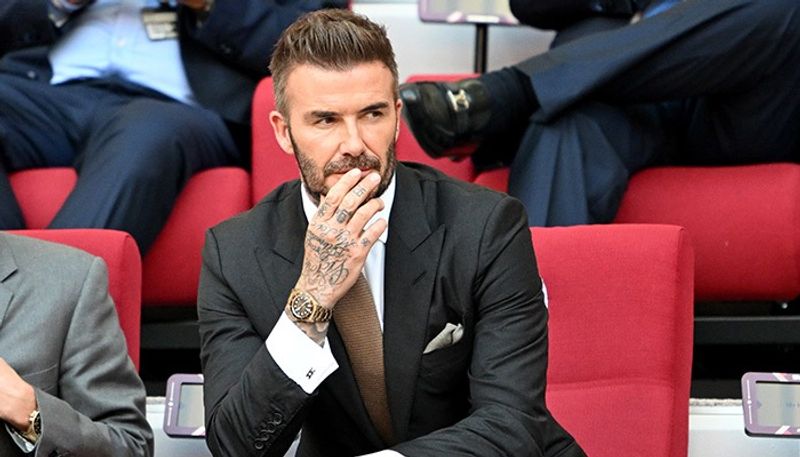 In March last year, Beckham met with Messi and the rest of the PSG squad, who were in Qatar for a tour. "Always good to catch up with the @PSG family," Beckham wrote alongside pictures of himself greeting Kylian Mbappe, Neymar, Lionel Messi and Sergio Ramos.
MLS's offer to Messi reportedly includes much more than just money through a club contract. "The league has gotten very creative with all of this," The Athletic reported earlier. "Everything is on the table."
The agreement is said to contain contributions from two of Major League Soccer's largest corporate sponsors: Adidas, who sponsors the league's apparel, and Apple TV, who currently holds the broadcast rights. MLS and Apple reportedly have discussed offering Messi a share of the revenue generated by new subscribers attracted to the platform's streaming package, MLS Season Pass, by the star's arrival in the States. 
A four-part documentary series about Messi's four World Cup appearances is also under production at Apple. In addition to all of this, Apple may have leaked the announcement through a Tweet that was later deleted. 
A profit-sharing arrangement with Adidas has also reportedly been offered to Messi in which the player would share in any increases in Adidas' profits brought on by his participation in the Major League Soccer.
Messi and Adidas have been partners for a very long time. In fact, Messi signed with the German sportswear company back in 2006. In the end, he signed a lifelong footwear contract with them in 2017. 
Also read: Lionel Messi to Inter Miami: Inside Argentine's luxurious $9 million Miami apartment with car lift
There are also rumours that Messi's deal will include the same option as Beckham did, enabling the seven-time Ballon d'Or winner to invest a predetermined amount of money in an MLS team. Given that arguably the greatest player in history is joining Inter Miami, one potential problem is where they might hold their matches.
For years, Inter Miami has struggled to construct a stadium in the heart of Miami specifically for football. A 25,000-seat venue, however, is expected to be finished by 2025.
The club has been holding their games in the 18,000-seat DRV PNK Stadium in Fort Lauderdale, which is 30 miles north of the city centre.
With Messi's arrival, Inter may be forced to look at alternative choices, such as the Hard Rock Stadium, which is the home of the Miami Dolphins and the American football teams of the University of Miami. 
Messi's exit came at a time when his bond with PSG, his former club, is maybe at its lowest point. The fan's supporters were also booing Messi's name whenever announced and whenever he has touched the ball in some matches. 
The Parisian club is in even more trouble after manager Christophe Galtier was fired after just one season in charge and there are rumours that Neymar may want to leave. Despite suffering a 3-2 loss to Clermont Foot, Paris Saint-Germain won Ligue 1 by one point over title rivals Lens on the last day.
Last Updated Jun 7, 2023, 11:06 PM IST