Cristiano Ronaldo fans carpet bomb Lionel Messi with memes after Argentine joins MLS side Inter Miami
After days of speculations and hectic transfer parleys, legendary forward Lionel Messi has joined Major League Soccer (MLS) side Inter Miami, with Barcelona missing out on a homecoming deal for the World Cup winner.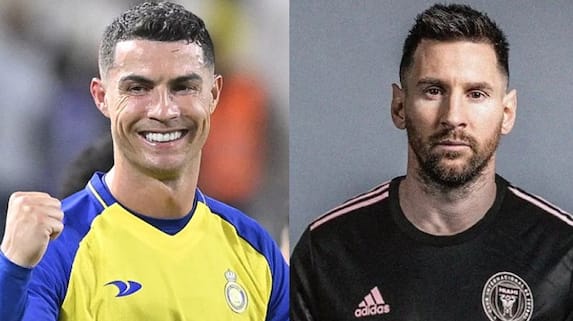 In what has sent football fans into a tizzy, legendary forward Lionel Messi has snubbed Barcelona and joined Major League Soccer (MLS) giants Inter Miami. An official announcement of the Argentine's move to the United States is expected in the next few hours.
Also read: Lionel Messi will play for Inter Miami in MLS next season; heartbreak for Barcelona fans
According to transfer guru Fabrizio Romano, "Lionel Messi to Inter Miami, here we go! The decision has been made and it will be announced by Leo in the next hours #InterMiami. Messi will play in MLS next season. No more chances for Barcelona despite trying to make it happen."
"Lionel Messi will clarify the reasons and details of his decision to join Inter Miami in the next hours. Deal will be valid with immediate effect as Jorge Messi is planning to travel to Miami later tonight," the transfer guru added.
Messi has been the subject of much speculation on the matter in recent days, with Barcelona, Al-Hilal of Saudi Arabia and Inter Miami all interested in securing the Argentine's services ahead of next season. However, the David Beckham co-owned side have got the seven-time Ballon d'Or winner's signature.
The news has sparked a massive reaction on Twitter, with fans of Al-Nassr star and Messi's arch-rival, Cristiano Ronaldo, trolling the World Cup 2022 winner for choosing to move to MLS instead of joining a club in Europe or Saudi Pro League.
"Messi saw Ronaldo, Benzema and Kante in the Arabian league and decided to run away from 200M to MLS. Inter Miami that is last but 3," said one Ronaldo fan on Twitter, while another added, "Messi joined inter Miami instead of Saudi just because he cannot bear living under the shadow of Cristiano Ronaldo once again. Even your goat knows who the real GOAT is."
Argentina's World Cup 2022-winning captain was eager to finalise his choice this week, even though father and agent Jorge Messi on Monday indicated his son intended to play for Barcelona next season. Barcelona was unable to assure Messi that they would be able to sign him for the upcoming season due to their salary cap limits, which seems to have been the deciding factor.
According to reports, Inter Miami's landmark deal with Messi will include a percentage of the money that sponsors of the league will make from his arrival. The former PSG star will earn money from both Adidas and Apple TV as part of the agreement.
Also read: Lionel Messi to Inter Miami: Inside Argentine's luxurious $9 million Miami apartment with car lift
Here's a look at some of the memes that carpet bombed Lionel Messi by Cristiano Ronaldo fans following his move to Inter Miami:
Last Updated Jun 7, 2023, 10:21 PM IST