Lionel Messi reveals why he snubbed Barcelona and real reason to opt for MLS side Inter Miami - WATCH
Lionel Messi confirmed his move to Inter Miami as a free agent, departing from PSG and rejecting a lucrative offer from Saudi Arabia. Unable to return to Barcelona due to financial regulations, Messi expressed his decision to experience football outside of Europe and prioritise his family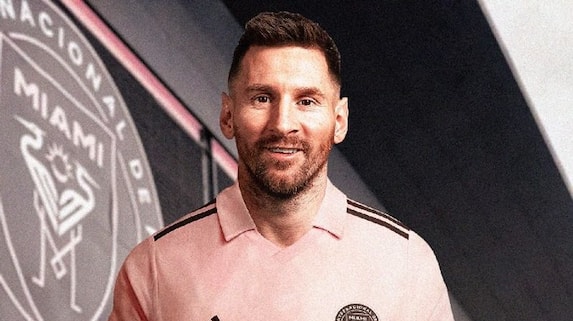 Lionel Messi confirmed on Wednesday his plans to join Inter Miami, a Major League Soccer team, as a free agent. This decision comes after his departure from the French champions Paris St Germain and his rejection of a lucrative contract offer from Saudi Arabia.
Messi, who recently played his last match for PSG, was also associated with a potential return to Barcelona. However, the Spanish club faced limitations imposed by LaLiga's financial fair play regulations, making a reunion with Messi unfeasible.
"I made the decision that I'm going to go to Miami," Messi said in an interview with Mundo Deportivo and Sport newspapers.
"I still haven't closed it 100%. I'm still missing a few things, but we decided to go ahead. If Barcelona didn't work out, I wanted to leave Europe, get out of the spotlight and think more about my family."
Also read: Lionel Messi will play for Inter Miami in MLS next season; heartbreak for Barcelona fans
This will be the first time that Messi will play outside Europe since he joined Barca's academy at the age of 13. 
"After winning the World Cup and not being able to go to Barca, it was time to go to the U.S. league to experience football in a different way and enjoy the day-to-day," Messi said.
"Obviously with the same responsibility and desire to want to win and to always do things well. But with more peace of mind."
Messi had wanted to go to a club where he could eventually have an ownership stake. He also wanted to maximise his existing deal with Adidas and MLS's relationship with Apple. Messi's move to MLS is expected to drive viewers to the Apple TV streaming platform, as the world's most recognisable soccer player.
Also read: Cristiano Ronaldo fans carpet bomb Lionel Messi with memes after Argentine joins MLS side Inter Miami
Messi was also linked with a move to Saudi Arabian side Al-Hilal after he received a formal offer. The gulf country has achieved notable success by convincing Cristiano Ronaldo to join Al Nassr shortly after the World Cup. Additionally, French striker Karim Benzema recently made his move to Al Ittihad.
Inter Miami, co-owned by former England captain David Beckham, has been actively involved in the development of football in the United States, with Beckham himself being one of the pioneering European stars to transition to the MLS. During his time with the Los Angeles Galaxy, Beckham celebrated two MLS Cup victories.
However, Lionel Messi's new journey with Inter Miami will present significant challenges. The team currently finds itself at the bottom of the Eastern Conference standings, trailing six points behind the ninth-place position, which grants teams a chance to qualify for the playoffs.
Last Updated Jun 8, 2023, 11:23 AM IST