Joan Laporta denies possibility of Lionel Messi returning to Barcelona in 2024
Barcelona's president, Joan Laporta, has definitively dismissed the possibility of Lionel Messi returning to the club in 2024.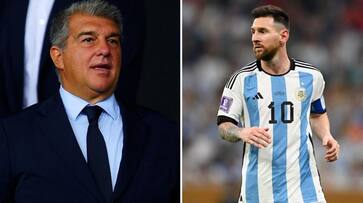 In a recent statement, Barcelona club president Joan Laporta has firmly ruled out any prospect of Lionel Messi making a loan move back to the club in January. Despite Messi's impressive performance at Inter Miami, which resulted in the Leagues Cup title and a US Open Cup final appearance, he has encountered injury setbacks, and Inter Miami narrowly missed securing a spot in the MLS playoffs.
Currently, Messi's primary focus is representing Argentina in their remaining 2023 matches, and he intends to remain in Florida to maintain his match fitness for the November World Cup qualifiers. Inter Miami has also confirmed their intention to play off-season matches in China, with Messi expected to join their traveling squad. Laporta clarified that although they offered Messi the chance to return at the start of the season, there are no ongoing discussions about a January loan move, respecting Messi's decision.
"Messi on loan? We offered Messi to return at the beginning of the season… no talks took place now. Leo told us his decision and we respect him."
Also Read: SL 2023-24: See a very bright future for NorthEast United FC, says owner John Abraham (WATCH)
Last Updated Oct 20, 2023, 5:48 PM IST