ISL 2023-24: See a very bright future for NorthEast United FC, says owner John Abraham (WATCH)
John Abraham discusses NorthEast United FC's plans for a strong comeback, the appointment of Mandar Tamhane, and their vision to transform the region into a football hub.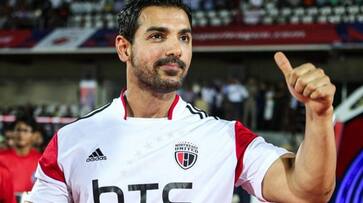 After a challenging campaign in the previous Indian Super League (ISL) season, NorthEast United FC is determined to make a strong comeback. Owner John Abraham is equally committed to steering the club in the right direction. The club has been actively preparing off the field for the new season, including the appointment of Mandar Tamhane as the Chief Executive Officer (CEO).
In an interview with the club's media team, John Abraham discusses the reasons behind appointing Mandar Tamhane and the benefits of his role. He highlights Tamhane's wealth of experience, having managed the Indian football team for five years and worked with Bengaluru FC for a decade.
"Mandar comes with a wealth of information, with a wealth of experience managing the Indian football team for five years, working with Bengaluru FC before that for ten years. He brings in a lot of experience into my head when he came here. So I am more relieved and happy to have Mandar on board," Abraham said in an interaction with NorthEast United FC media.
Abraham shares that he and Tamhane have engaged in discussions with Meghalaya's Minister, Conrad Sangma, to outline their shared vision of transforming NorthEast into a football hub. Their joint initiative includes plans to establish a football academy in the region, offering top-tier facilities to nurture and develop young talents.
"My vision has always been and will always be to make NorthEast the epicentre of football training and football in the country. I want NorthEast to be the main focus of anything that has to do with football in this country. For that, we met the Honourable Chief Minister of Megale, Mr. Conrad Sangma. We are very happy to say that we're working towards a plan to create an academy, which we believe is going to be a centre of excellence for anybody who's aspiring to play for India," he stated.
"We're really hoping our plans are big; they're grand, and they're very ambitious. And today, when I took Mandar for the meeting, he was more than happy. I said you heard it from the horse's mouth, Mandar. Because when we had the meeting with the Honourable Chief Minister Meghalaya, he saw the plans really roll out in front of him. And the timing is so right because all these plans have come in and Mandar has come in. So, we're setting everything together, and I see a very bright future for Northeast United FC and for football in the region," he added.
Abraham believes that they are embarking on something new and calls for the support of the fans on this journey. He encourages the Highlanders to stand by their team through all circumstances, urging them to show up in large numbers and motivate the team during challenging times.
He said, "This is an entirely new Northeast United FC. Please come support us. I respect fans because I believe that football is made and football clubs are made because of fans. I have a lot of respect for them. I would want them to come in droves, thousands, and lakhs to come and support Northeast United FC. Not only when we're winning, but even sometimes when we're losing. So I just hope that they all turn up there, and I hope they understand that.
"I personally speak for myself; I personally put my blood, sweat, energy, and money into this team to make it special. And I have a dream. And that dream is to see the steam on top. And the steam will be on top very soon," Abraham concluded.
Last Updated Oct 20, 2023, 11:24 AM IST