Ronaldo's Al-Nassr boss Rudi Garcia labelled 'worst person in football'; will CR7 play ball with Frenchman?
Former Brazil star Juninho has described Cristiano Ronaldo's new Al-Nassr boss Rudi Garcia as the 'worst person' he has ever known in his footballing career but added that the Frenchman would go to any extent to please the legendary striker.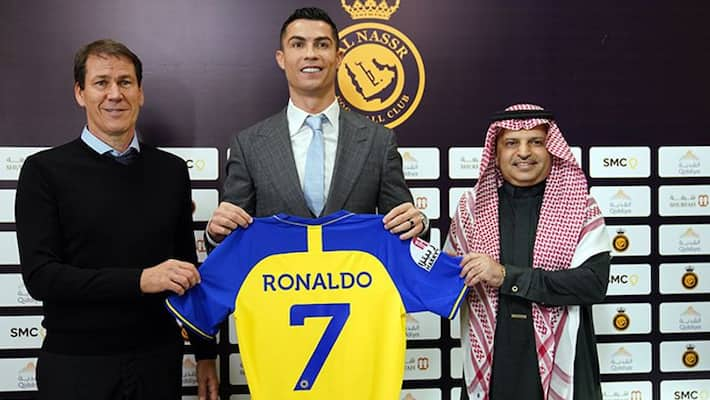 While legendary striker Cristiano Ronaldo stamped his authority in European football for two decades, the former Manchester United star has also faced fierce criticism for his attitude towards managers and teammates, with the latest fiasco at Old Trafford proving to add more fuel to his 'disrespectful' character.
Two days after the Portuguese talisman was unveiled by his new club Al-Nassr, former Brazil great Juninho Pernambucano has sent a caution to the wind of possible ego clashes between the 37-year-old and his new boss Rudi Garcia. However, the former midfielder believes the Frenchman would go to any extent to please Ronaldo to ensure the Saudi Arabian club's triumph in the league and Asian Championships.
Also read: 'Ronaldo not an activist': Fans slam Amnesty for urging Al-Nassr star to highlight Saudi's human rights issues
In a scathing character assassination, Juninho called Ronaldo's new coach the "worst person" he had ever met in his football career. Former Brazil international also claimed Al-Nassr manager Garcia would serve the former Manchester United star his breakfast if necessary to stay by his right side. "He doesn't know how to lead anything. He leads out of the fear he imposes on others," he stated.
Juninho's relationship with Garcia was known to be a bad one, and the Frenchman left Lyon at the end of the 2020-21 season on a bitter note with the 40-times-capped Brazilian.
In an interview with the Portuguese sports site MaisFutebol, Juninho said, "My experience with Rudi Garcia was terrible. He's the worst character I've known in all my footballing career. He's a cold and calculating person, very untrusting and insecure. That's why he instils fear in employees and the technical staff in general."
However, Juninho believes he will go to any extent to please Ronaldo in the dressing room and field. "He won't dare to do anything obstructive. On the contrary, he will even serve Cristiano his breakfast if necessary. He will try to be his friend and do everything possible. It will be his dream to be Cristiano Ronaldo's friend," the Brazilian said.
Also read: Ronaldo trolled after Al-Nassr debut potentially pushed owing to pending 2-match FA ban for Everton drama
"Rudi Garcia doesn't care about the team's success or dressing room harmony. What matters to him is that he's the centre of attention, whatever the crisis. But like all cold human beings, he recognises those that are better than him and tries to take advantage of it. Cristiano Ronaldo is one of the greatest in the history of football, a legend, and Rudi knows that," he added.
Juninho also said he was speaking out only out of admiration for Ronaldo, who he 'admired and respected' because talking about the former Lyon and Marseille boss sapped him of energy.
Despite Juninho's remarks that Garcia would go out of his way to massage Ronaldo's ego, given the French coach's history and the former Real Madrid legend's well-known tantrums, fans are weary if the two will get along well at Al-Nassr. 
Ronaldo's recent outburst during an interview with Piers Morgan, which led to his abrupt departure from Manchester United, is still fresh in people's minds. In November, the Portuguese legend was dubbed 'disrespectful and arrogant' for launching a scathing attack on the club and manager Erik ten Hag. Hence, it remains to be seen if the five-time Ballon d'Or winner will follow coach Garcia's vision for Al-Nassr or impose his thoughts on the Frenchman, who is known to be a tough nut to crack.
Also read: Messi vs Ronaldo shifts to battleground Instagram; will Argentina's World Cup hero overtake arch rival?
Last Updated Jan 5, 2023, 5:28 PM IST