LeBron James and Stephen Curry among elite Basketball stars eyeing Paris Olympics participation
Basketball icons LeBron James and Stephen Curry are contemplating a momentous return to international competition, eyeing the Paris Olympics as part of a star-studded Team USA roster.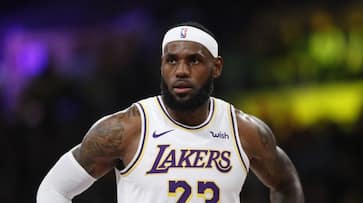 NBA luminaries LeBron James and Stephen Curry are among the list of elite basketball talents considering participation in the forthcoming Paris Olympics. These reports have emerged in the wake of the US national team's somewhat disappointing showing at the Basketball World Cup, where they returned empty-handed after losses to Canada in the bronze-medal game and eventual champions Germany in a semi-final clash.
LeBron James, a 38-year-old forward with a storied career, boasts two Olympic gold medals from Beijing in 2008 and London in 2012 but hasn't graced the international stage since. However, he's acutely aware of the bitter taste of global competition, having been part of the 2004 Athens Olympics bronze-winning team and the 2006 Basketball World Cup bronze medalists.
James is not merely contemplating a return to Olympic glory; he's actively engaged in recruiting former NBA Most Valuable Players, such as Stephen Curry and Kevin Durant, in a bid to assemble a powerhouse team for the 2024 Paris Olympics.
Kevin Durant, a two-time NBA champion and forward for the Phoenix Suns, who turns 35 soon, has already made significant contributions to US Olympic gold-medal endeavours in London, Rio, and Tokyo.
Curry, a four-time NBA champion hailing from the Golden State Warriors, has never donned the USA jersey at the Olympics but did play a pivotal role in securing World Cup titles for American teams in 2010 and 2014, marking the country's first such triumphs since 1994.
LeBron's recruitment efforts extend beyond Curry and Durant. He has reportedly enlisted the talents of his Los Angeles Lakers teammate Anthony Davis, Golden State's versatile Draymond Green, and Boston's emerging star Jayson Tatum, as revealed by The Athletic. Furthermore, Phoenix's three-time NBA All-Star Devin Booker and the seasoned 38-year-old Chris Paul of Golden State, who secured gold medals in 2008 and 2012, are also reported to be intrigued by the prospect of participating in the Paris Olympics.
Also Read: Euro 2024 qualifiers: Bruno Fernandes dominates in Portugal's 9-0 victory over Luxembourg
Last Updated Sep 12, 2023, 11:31 AM IST