Asian Games 2023: Sift Samra wins gold, Ashi Chouksey wins bronze in 50m rifle 3P
In an extraordinary performance, Sift Samra secured the gold medal and set a new world record in the fiercely competitive 50m Rifle 3P Shooting event. Joining her on the podium was Ashi Chouksey, who earned a well-deserved bronze medal, making it a memorable day for the shooting enthusiasts.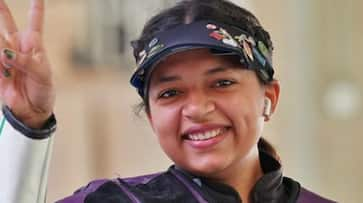 In an impressive display, Sift Samra secured the gold medal, while Ashi Chouksey claimed the bronze in the 50m Rifle 3P (Shooting) event. Sift's victory was particularly remarkable as she set a new world record with a stunning score of 469.6 points.
Sift Kaur Samra and Ashi Chouksey secured the gold and bronze medals, respectively, in the women's 50m rifle 3-position individual event at the 2023 Asian Games held in Hangzhou, China, on Wednesday. The silver medal went to Zhang Qiongyue of China, who managed to outperform Chouksey with a score of 8.9 in her final shot, causing the Indian shooter to drop below her Chinese counterpart.
In a remarkable achievement, Samra clinched the gold with a world record-breaking score of 469.6, while Zhang secured second place with 462.3 points. Chouksey finished in third position with a score of 451.9.
Earlier in the day, Kaur and Chouksey, alongside Manini Kaushik, contributed to India's success by winning the silver medal in the women's 50m rifle 3 Positions team event. India achieved a total score of 1764, coming close behind China, who claimed the gold with 1773 points. The Republic of Korea secured the bronze medal with a total score of 1756.
Samra's outstanding performance also set a new National Record with a score of 594 during the qualification round, securing her a place in the individual final. China's Xia Siyu, who had the same score as the Indian shooter, topped the qualification round due to a higher number of inner 10s.
Chouksey also earned her spot in the individual final by finishing in sixth place during the qualification round with a total score of 590, while Kaushik ended in the 18th position with a score of 580.
With these impressive achievements, India's medal count at the ongoing Asian Games now stands at 18.
Also Read: Asian Games 2023: India's schedule and event timings for September 27
Last Updated Sep 27, 2023, 10:40 AM IST